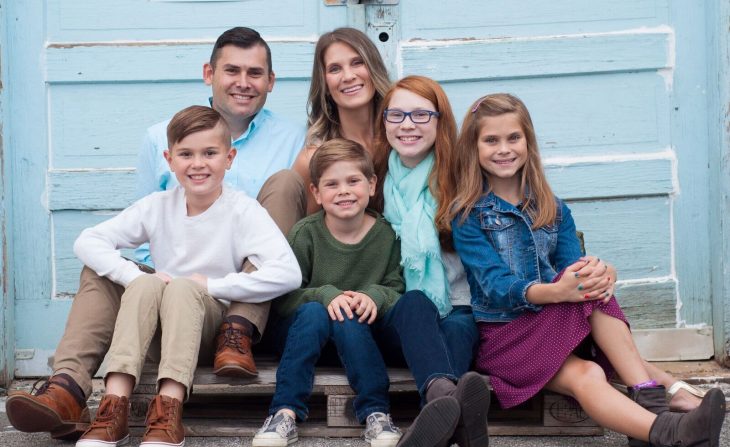 Learning, Connecting, and Welcoming: Part 2 of a Conversation with Prof. Andrea Summers
This spring, Professor Andrea Summers traveled to the United States-Mexico border with a team from the Wesleyan Church to listen to asylum seekers, support local pastors and other community leaders, talk with U.S. Border Patrol agents, and offer assistance at shelters on both sides of the border.
In this second part of our conversation (you can read Part 1 here), Summers talks more about that experience and the great things God is doing in the Wesleyan Church regarding immigration. We also discuss how her own ministry has been encouraged and strengthened by her husband's ministry and what she thinks gets taken for granted about people in ministry.
Jonathan Sircy: What have been the sort of things you've mulled over most from your spring and going to the border and working with working with people who want to immigrate to this country and have been sort of like put in purgatory? I know you got to have conversations that documented and served that immigrant population. What did God show you there? What has God continued to speak to you about?
Andrea Summers: Oh, it's a lot, and it's hard to give a simple answer, but I will do my best. It was a really eye-opening and heart wrenching experience.
I mean, I have been sympathetic to immigrants and even undocumented immigrants for a while. Where we lived in Georgia, I had asked the question, "Lord, who are some of the most vulnerable people in my community where I live right now?" And through a series of events, I ended up in a trailer park where the vast majority of the folks in that trailer park were undocumented immigrants. I tutored these kids after school. So, I was already connected to the plight of immigrants.
But I learned so much and I think everyone is kind of somewhere on this trajectory, even like churches and faith communities are somewhere on a trajectory of learning, connecting, and then welcoming.
Some of us have our foot in more than one of those locations at a time. We're still just learning and like correcting misinformation that we know that we grew up with or that the media has given us and learning really what the push and pull factors are that cause people to immigrate in the first place. Some of us might have all the information, but what we really need to do is just actually connect with and talk to an actual immigrant and hear their story. Welcoming is when you're at a point where you're actually serving that community. That's what going to the border did. It was like a firehose of learning and connecting in tandem. So I was able to learn so much about like immigration law, for example. I visited shelters where I was connecting with actual immigrants, and those two things over such a kind of intense experience mentally and emotionally and even logistically.
When I came home and I had time to really like to sort through all the pieces of the puzzle and think through it and pray through it and learn some more and maybe connect some more, I was able to kind of really take some steps forward.
So what does that mean for me now? It means I'm getting much more involved with Wesleyan churches fostering immigrant connection.
The Wesleyan Church is, except for maybe the Catholic Church, probably leading any other denomination in our work with immigrants. It's incredible because we're such a tiny denomination and because even in our denomination, immigration is such a polarizing issue. But it also just goes to show probably how little the church is doing in the area of immigration, and in a lot of ways that a church like the Wesleyan Church could be on the forefront.
JS: I love that learning, connecting, and welcoming sequence. How has your relationship with your husband [Jeremy Summers, the Multiplication Pastor at Alive Wesleyan] helped in that process?
AS: He's my partner and my friend and from day one, you know, we both have had a very clear call into vocational ministry. So that's been a really wonderful thing that we share this passion. How great is that? But it also has been a really difficult thing sometimes, too, because we've been married long enough that we can look back and we can point to seasons where it was like we gotta take turns sometimes.
Jeremy and I have similar kind of voices. We both went to ask a seminary, and it was really something that was incredibly formative for both of us. But we're really different, too. We have different areas of focus.
JS: What is something that people take for granted about people in the ministry? If somebody hears you're a professor of religious studies at Southern Wesleyan or somebody hears you're on the staff of a local church, what's something they take for granted that maybe isn't totally true?
AS: There is still a tendency to sometimes put pastors or pastors, families or senators maybe on some sort of a spiritual pedestal. You know, I think that it is becoming more in vogue to be more vulnerable and say, "I'm messy and broken," but, you know, we only still share so much. You might say, "I struggled in my marriage 10 years ago," but we might not say, "My spouse and I had a huge blow out last night."
One of the things about spiritual formation is that it requires vulnerability, honest vulnerability, not with everyone but with a small handful of people before God for one another. It's God showing up in the garden and saying to Adam and Eve who were hiding behind the bushes, "Where are you?" Like, he's calling me now. I think that's so much of God's invitation all the way through scripture is come out and come out in hiding. And so that's something that we all need to do. We have to come out of hiding to ourselves, to the people in our lives, to God. It's really hard for pastors to do that.
And so, when it comes to spiritual formation, leaders are often not allowed to do that, or they don't feel like they're allowed to say that. So, I think that that that's difficult. That vulnerability has been a real intentional and spiritual discipline in my life in the last 10 years.