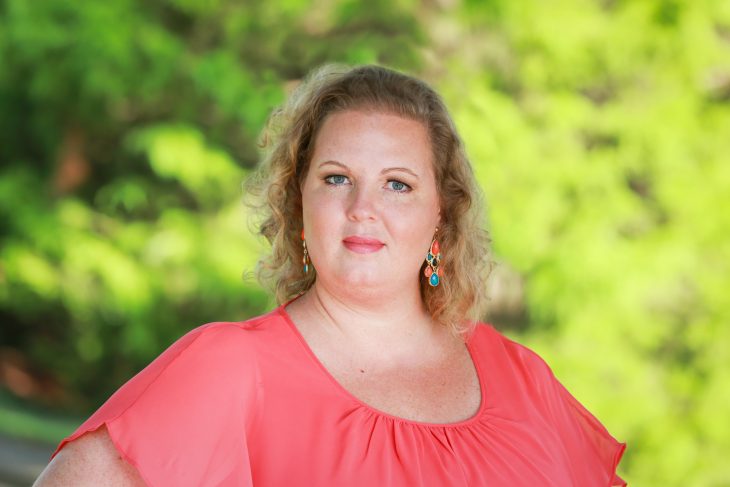 "God Invented Music!": A Conversation with Dr. Amber James
Dr. Amber James is an Assistant Professor of Music at Southern Wesleyan University. She has just announced the cast of this year's musical, Newsies, but in the time of the interview, the show had not yet been announced. Last year's musical, Little Women, was very well received, and people are very excited for what is coming up next. Dr. James casts and directs the musicals, as well as coordinating them and finding resources such as sound, lighting, and costumes for everyone involved. It is a big job, but she does it very well.
In this interview, I spoke to Dr. James about her experiences at SWU as a student and a teacher, about her directing musicals both this year and last year, about her exciting summer trip to Germany, her life working in New York City, and the importance of music in everyday life and her life specifically. Dr. James is brilliant, and Southern Wesleyan can see great success in her future.
Lyssa Henry: So, Dr. James how did you first get to Southern Wesleyan, like when you went to school here?
Dr. James: I grew up as a Wesleyan pastor's kid, and I did a lot of music competitions. We had Teens and Talent, which is called Campus Challenge now. I would compete with other people from my church and we would always come to SWU for the regional competitions. I just always knew I wanted to come here, and I actually did not even apply to any other college, only this one.
LH: What are the noteworthy similarities and differences between going here and teaching here?
DJ: One of the similarities would be how the faculty take an active role in students' lives.
There's obviously more students on campus now. When I was here, I think we had 150 students on campus. We only had two residence halls: Stu B and Childs. The girls were in Stu B. The boys were in Childs. That first year I was here, they built the apartments. As a sophomore, I went into the apartments when they were brand new.
There are obvious building differences. We have Newton Hobson now instead of Folger. I spent my entire college career in Folger.
But as far as the feeling on campus, it is pretty similar. It's always had a really sweet and family atmosphere. There are professors still teaching that were teaching when I was here. So yeah, those are some similarities.
But it is different. We're a lot bigger. We have a lot more space. Our campus has expanded.
LH: How was directing the musical last year?
DJ: It was pretty exciting. The most interesting thing was watching the transformation of the students and how their characters impacted them, not only just during the time of the musical. They wrote these beautiful tributes on Facebook to each of their characters. They still talk about it, and people come up to them and talk about the musical. I think it made a big impact and kind of changed people's lives. Several have said it's been their favorite production of their college career, and it was just really neat to be a part of it. It was a story that involved real people, real situations and serious, as well as funny, moments. It was a lot of work, but it was a lot of fun.
LH: Are you excited for next year's production, too?
DJ: Yes, it's going to be amazing!
LH: What about your summer was exciting? You went away, right?
DJ: So I went to Germany on a teaching fellowship with the International Performing Arts Institute and had three students go with me. Two of them are SWU grads. They have a musical theater program and an opera program, and I worked mainly with the musical theater side. I did a little bit of teaching. I did a lot of observing of master teachers, professionals in the business who have way more years of teaching experience than I do. I did some music directing. I did some performing. I just learned a lot and had a great time. I also did some vacationing.
LH: Rumor has it that you're planning a recital that involves Emily Dickinson poems. You want to say anything about it?
DJ: Yes. It's not a rumor. It's true!
On January 14th, Emily Service, a current student, and Ashley Lamos, a SWU grad, and myself will be performing "Twelve poems of Emily Dickinson" that were set to music by Aaron Copland. Lori Shelton will be accompanying us, and Dr. Britt Terry will be our lecturer, so it's going to kind of be like a lecture and recital.
These are beautiful pieces. I've always wanted to do them. I've performed some of these pieces—four of them, I believe—in my master's recital in 2010. And I thought it would be cool to have a current SWU student and a graduated SWU student along with myself to perform them in the Alive Chapel in the Nicholson Mitchell Ministry Center on campus.
LH: You taught lessons in New York City, and you lived there. Is there something that you learned there that you brought back here to SWU or anything you learned in Central that you would take back there, like to your students that you're teaching that are still there now?
DJ: I feel like New York City, my three years there, kind of has split my life in two, meaning everything now is post-New York, and everything before it was pre-New York.
When you move to a city like that with no job, not a ton of money, not a place to live—you're living with your best friend in her bedroom that she shares with an apartment with four other people—it can be very intimidating.
I learned that you need to stay in your lane. I went to New York City thinking, I'm going to sing, I'm going to get a temp job or some kind of office job, and I did try that at first and nobody wanted to hire me because I was overqualified, but underqualified because I had no experience in that business.
It took me about two weeks to think, "Well, maybe I should start my own teaching studio privately." And it took me about five months to build up to full time. In between that I did some temp work at MoMA, which was really cool, and I substitute taught in private schools to make ends meet.
So being able to survive in a city like New York where it's so expensive—in a completely different culture than anything I've ever experienced, especially moving from Mississippi to New York City—taught me that there's really nothing in my life I could ever come up against and not be able to conquer because that was one of the hardest things I've ever done.
Leaving the city was also very hard to come to SWU, but my time there made me a much better teacher. Even since I've been here, the things I learn with you guys in lessons are so different. Every lesson I teach, I learn something new, too. And I'm able to take that back to my New York City students. Everybody just benefits from being part of this culture that I've created for myself.
LH: So being at a Wesleyan school, music is pretty new to the scene, I think. Do you think that there is any problem of loving Jesus and loving musicals at the same time? Because a lot of them are really controversial, and people might not think it's okay to listen to musicals or watch them or be in them.
DJ: Yes. I mean, that's a tough one. You know, I am a firm believer that you have your convictions, and one person's convictions may not necessarily be the same as someone else's. And that's okay that we are different here.
Here at SWU, we choose to perform musicals that line up with our values and promote who we are as a university. I think that's important. And I think, you know, keeping things kid friendly and reaching out to the community, that's definitely important.
LH: Do you think there's any link between being part of the arts and faith in Christianity?
DJ: Oh, absolutely. God invented music!
And I believe when we're participating in music, making music, studying music, it's such a spiritual act regardless of what it is. It doesn't have to be a praise and worship song or a hymn.
It's extremely personal. It's very creative. I feel like it's one of the things we're able to do as humans that shows off our creativity the most.
The song doesn't necessarily have to be Christ honoring. The person performing maybe isn't aware of it as that, but just the fact that they're given that gift and that talent? That's a gift from God.
LH: Are there any spiritual mentors who've inspired and influenced your art?
DJ: Yes, I grew up in a Baptist Christian school, and my choir director and music teacher all throughout eight or nine years of being at that school, my piano teacher as well, were just excellent examples to me.
My mom is my biggest mentor, biggest fan, biggest supporter.
My grandmother prays for me every day, and I know one day when she's not here anymore, somebody else is going to have to take up that challenge. But those would be my mentors.
And of course, there's the current SWU music faculty, not myself included, because they trained me. They were here for me and helped mold me.
LH: What's the biggest misconception that people have about singing?
DJ: That there's perfection to be found in singing, which I do not agree with. What may be perfect to one person is not going to be perfect to someone else. I think another misconception would be the fear of putting yourself out there. That's one thing I learned in New York.
There were so many adults who had jobs as lawyers or worked for hedge funds or in banking or in corporate jobs and would spend their hard-earned money in a city where it's very expensive to live just to have a hobby. I saw the change it made in them. At no point in my life had I ever experienced that as a teacher because I'd mostly been working with kids. And it's obvious why kids choose music. It's fun!
But when adults really took the time to invest in it, it showed me how important it was for people just to feel like they were able to connect with someone else.
LH: Is there one thing you wish everybody knew about what you do?
DJ: That's a good question. I feel like what I do is pretty self-explanatory.
I make a lot of sacrifices for what I do here. It's fortunate, you know, for me that I'm single and I'm able to serve and really pour into the lives of the students. That's what I care about. And I'm happiest knowing that you guys are learning, thriving, and that you're feeling confidence in yourselves and trying new things and that you're progressing. That's really what I care about.
I have a dream and a vision for the university. There's a great need for more of the arts and theater, and I think that it would be great for us to go that direction. And this is why we're going to two productions a year. One is not enough. It doesn't provide the outlet, you know, that people are craving.
And I think when students are happy and they're able to be creative, it has a direct impact on the rest of their college experience in the classroom.