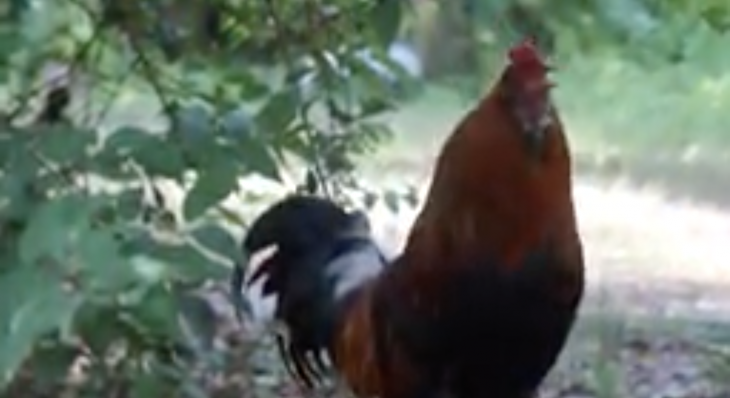 Learning to Hear the Chicken's Voice Part 3: An Interview with Dynestee Fields
In the final part of my interview with recent Southern Wesleyan Honors graduate Dynestee Fields, we discuss the technical aspects of her documentary "The Voice of the Chicken" as well as what her next project will be.
Here's the rest of the interview: Part 1 and Part 2.
Dr. Sircy: Is there anything in the documentary—I'm specifically thinking of your voiceover and what you provide—that an expert could look at and say, "I don't know about that!" or was your point to give as close to a public consensus about the scientific view of chickens?
Dynestee Fields: That was definitely my point. I studied my notes religiously throughout the entire thing, so if they attacked my voiceover they would actually be attacking their own research. It was just whatever they said. That was what the whole documentary was about. It was like, "Nobody's going to read a whole paper about this, so let's just make a documentary about it and then people can watch it."
DS: What are the gaps in chicken knowledge right now? What are the most fascinating yet scientifically unexplored facets of chicken life?
DF: Out of all the sources I looked at, I just haven't found an explanation for waltzing other than it being like a courtship behavior, circling around. What is this? Why don't you have more information on this? I just haven't found anything, so that is definitely one gap. People have really taken to researching chickens.
DS: So if that's true then the problem isn't knowing more about chickens. Is that sort of like your insight? It's not like we need to know more about chickens. It's gotta be something else because we do know a whole lot about chickens and we're still treating them badly. Is that kind of your subtle point you're making?
DF: The public is not gonna read these papers: "Oh, we just discovered that chickens do this! Isn't that amazing?" I made the documentary so people could watch it because people are more prone to watch something than to read it. At the end of this whole thing, that was a good idea path to explore. "Let us just try to see if people knowing that chickens are more intelligent will help them." But I don't know. At the end, this may have some advantages like increased welfare, but I'm not sure if that's going to dissuade people from eating chickens. I don't know.
DS: Was there a longer version of this documentary?
DF: This documentary probably could have been twenty minutes, but I knew that my timeframe was fifteen minutes and the credits take up a lot. But I had this whole thing where I went through each scientist and talk about the research that was done on chickens. But that would have been way too long and drug this thing out.
DS: Where did the music come from?
DF: It came from random places on the internet, like these random musical sites. I had to purchase all these things, so, "Hey, it's not me just lifting something from the internet."
DS: It was good!
DF: Thanks!
DS: What part of the process of putting the documentary together did you like most?
DF: Filming it. I loved filming it and liked writing it. Those were fun parts.
DS: What were your least favorite parts?
DF: Editing. I did not like that part at all.
DS: Why?
DF: I had to edit it so many times! I had to go back and forth. I was just getting tired of watching that documentary. Then I would get feedback from people. My first voiceover was not very good. Apparently, I have a really strong southern accent that Dr. Knight says is southern and country-southern at that so I had to go back through and changed all of the voiceovers. Yeah. It's a good thing I'm an English major too because writing a research paper and having to continuously re-draft really helped me with the organization and flow of this. That was an experience.
DS: Are you working on a new project? Are you filming something new now?
DF: I'm working on a lot of new projects. I'm working on an animal sanctuary fifteen-minute documentary that tells people about animal sanctuaries, and then I'm working on my paper with Dr. Stubblefield for an anthology put out by Lexington Books. So that should be interesting! I'm going to study that religious influence more and maybe that will lead to something else.
DS: The film ends with the question meant to be answered with human voices, the question about the morality of eating chicken. You sort of make clear your answer. Can you not just give us your answer but also why you think that answer should be convincing.
DF: I personally do not think that people should be mass-producing chickens. If people have to eat chicken to survive, there are other ways to do this. People did the same thing in the 1920s, but nobody was just mass-producing chickens. This was just something that people did for money, and the chickens are the ones that really suffer it. It's very unnatural and cruel what's happening to them. If people are gonna continue eating chicken then find another means to do it or you can always support other initiatives: the vegan movement, the vegetarian movement, and this cell-cultured meat which will be on the market next year where they have found a way to take a cluster of cells from different animals including chickens, put those cells in an environment that mimics the animal's body and grow it out to be meat without ever harming the animal. So that should be an interesting turn in this whole thing. I can't wait to see where that goes.
DS: Wow. Mind blown! Are you getting constant chicken news updates? Where does your chicken knowledge go from here? Is it going to be much more empiricist, you going out and continuing to observe chickens or talk with people who raise chickens or perhaps with other activists? If I wanted to go on from "The Voice of the Chicken" and learn more, where would I go?
DF: First, I would stick around with activists because they love to do protests outside chicken facilities. I went to one, and you can see the chickens stuffed on the trucks. Maybe talk to some people who are farming chickens. I wouldn't say, "Hey, I'm affiliated with anything that's anti-eat chicken." Pose as a farmhand. Get in there some kind of way. There's a ton of books out there about chickens also, even more articles about chickens. Each article that you get leads you to like 100 other article which leads you to 100 others. There's plenty of stuff out there about chickens.