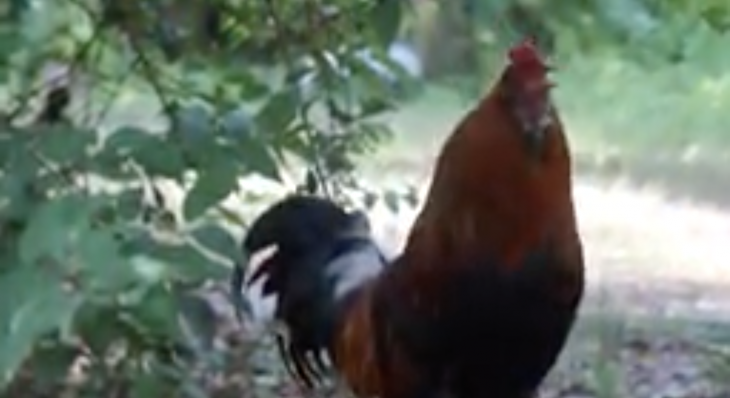 Learning to Hear the Chicken's Voice Part 1: An Interview With Dynestee Fields
Dynestee Fields certainly knows more about chickens than I do. In all likelihood, Dynestee knows more about chickens than you do too. But she neither majored in biology nor has any intention of going on to get a graduate degree in animal science. She studied chickens not because she likes talking about them but because she loves to hear them.
Dynestee graduated this spring from Southern Wesleyan University, where she majored in English and minored in Media Communications. For her senior honors project, she knit her love of writing and filmmaking with her passion for animal rights and produced a short documentary entitled "The Voice of the Chicken."
After successfully defending her honors project, Dynestee took the time to talk with me about her project and about its goal: to get people to see and hear the real chicken, not just the one who has been produced for our gustatory pleasure. "The view of chickens that humans have is either food or 'they're unintelligent,'" Dynestee told me. "The vocal repertoire is really a way to crack into their world. It's really central to understanding their world and how they look on what's going on around them."
Dr. Sircy: Let's start with the name of your project: it's "The Voice of the Chicken," not The Voices of the Chickens." Why give us two singular nouns?
Dynestee Fields: To make it less confusing. If you say, "The Voices of the Chickens," it's kind of like, "Oh, each different chicken has its own unique language or way of speaking or they're own vocalization." I just said "The Voice of the Chicken" since they basically share the same vocal repertoire with their ancestors the red jungle fowl. It made more sense that way.
DS: If I studied the language of chickens here in South Carolina, that language will be the same if I go over to India?
DF: Yes, different response thresholds though for the red jungle fowl because they're still living out in the wild. They are definitely more sensitive if some kind of danger is nearby and domestic chickens are not that sensitive. They are sensitive, but not at that level.
DS: So their responses differ but the actual language itself might not be different?
DF: Yes.
DS: What was one thing you didn't know before you stared the project that you discovered and were surprised by?
DF: I didn't know what the crow meant. Most people think, "Oh, the rooster sees the sun. He's trying to wake everybody up." But roosters use it to show dominance. They also are able to be identified by their crow because of the different tone-length and notes. So that was very fascinating to me. I was like, "Wow!" No wonder you hear one rooster over here crowing and the other rooster somewhere else crowing. Most people are like, "Ah, they're greeting each other!" Really, they're like, "Don't come over to my territory. If you do, we'll fight."
DS: Before the project began, what was the most remarkable aspect of chickens that demanded that you study them intensely? What were you fascinated by?
DF: The fact that chickens can see ultraviolet colors. I think that's fascinating. They can see light before most people do because of the cones that are in their eyes. So yes, they have a whole different view of things.
DS: Literally!
DF: Yes.
DS: Now how did you figure that out? What did you encounter that let you know that? You read a book about chickens? You watched a documentary? You cut open a chicken eye…?
DF: I wrote a short story on chickens for Dr. Schleifer's creative writing class, so I had to do some research for that. I looked it up and discovered that and thought, "Hey! Chickens are pretty interesting."
DS: It started with a work of imagination rather than sort of like a research project! But you didn't do "The Eye of the Chicken." You did "The Voice of the Chicken." Why the chicken voice?
DF: Just because the view of chickens that humans have is either food or "Somebody's chicken. They're unintelligent." So the vocal repertoire is really a way to crack into their world. It's really central to understanding their world and how they look on what's going on around them. So that was the main thing.
DS: You're right! We say "chicken" when we want to say someone is scared or is showing cowardice. Is flight or running away from something terrifying or potentially harmful a major chicken trait? Or have we just taken the 75th thing they're actually known for and turned it into who they are?
DF: Throughout my research, I haven't really seen anything about chickens running away! Even filming chickens. The thing about chickens is that one will usually give an alarm call, they will hear it, and they will hide. They don't really hide. If something was chasing a chicken, I can imagine they would run. They wouldn't just stand there. But even if a hawk comes, a rooster will perhaps die protecting the other members of the flock because he will fight the hawk. When people say that about chickens, I really don't think they know much about chickens!
DS: That's funny. What kinds of animals eat chickens other than humans? Hawks you mention specifically in the documentary. What kind of animal eats the jungle fowl?
DF: Definitely the hawks. There may be a ground predator. You know, I'm not exactly sure. I studied the chickens that have been domesticated. I studied the jungle fowl. But you know the thing that's really after them are the hawks. That's what they're really hiding from.
DS: Who did you make this documentary for?
DF: For people who really don't connect with chickens: people who see Bojangles, Zaxby's, Chik-Fil-A…but they don't really see the real chicken. Or if they work with chickens, but the chicken that they see is the overly genetically selective breeding, you know, the chicken we've created today, which is not the chicken of the wild. That's really who I made it for.