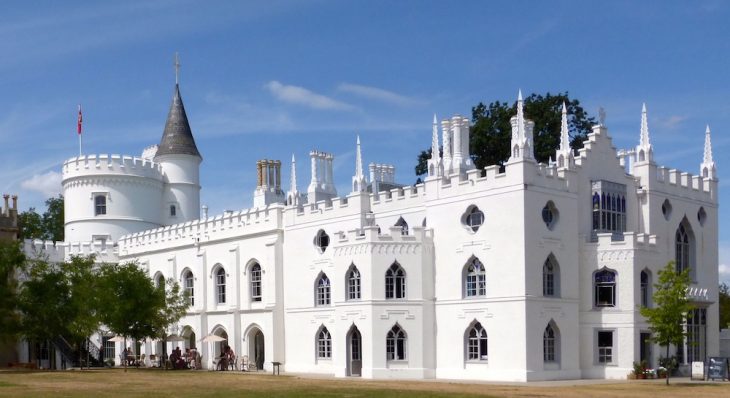 Word of the Day: Serendipity
Today's word of the day, thanks to the 18th century English writer Horace Walpole, is serendipity. The noun means "an aptitude for making desirable discoveries by accident" or "good fortune; luck," according to www.dictionary.com. According to www.etymonline.com, the word dates back to "1754 (but rare before 20c.), coined by Horace Walpole (1717-92) in a letter to Horace Mann (dated Jan. 28); he said he formed it from the Persian fairy tale 'The Three Princes of Serendip,' whose heroes 'were always making discoveries, by accidents and sagacity, of things they were not in quest of.' The name is from Serendip, an old name for Ceylon (modern Sri Lanka), from Arabic Sarandib, from Sanskrit Simhaladvipa 'Dwelling-Place-of-Lions Island.'"
Horace Walpole was the youngest son of Sir Robert Walpole, 1st Earl of Oxford. The senior Walpole was extremely active in politics, rising through Parliament until he became the most powerful MP (Member of Parliament) under George I. Robert Walpole is often called the first Prime Minister of England because there was no such position prior to Walpole. He stayed in power for an incredible 21 years, up until 1742.
Like the son of any wealthy and powerful politician, Horace Walpole received a very fine education, studying at Eton and then at King's College, Cambridge. But his interests were primarily art, leisure, friends, and letter writing. He was such a prolific letter writer that the Yale Edition of Horace Walpole's Correspondence runs to 48 volumes (https://walpole.library.yale.edu/collections/digital-resources/horace-walpole-correspondence). He did serve in Parliament for about 13 years, but his career there was undistinguished.
While at Eton, he became friends with the English poet Thomas Gray, who would later become famous for his "An Elegy Written in a Country Church Yard." The two of them attempted the Grand Tour together, traveling around continental Europe to see the famous cultural and historical sites. However, they quarreled while on the trip and separated, though years later they were reconciled.
Perhaps the most important event of Walpole's life occurred in 1737, when his mother died. He was very close to his mother, and no one was ever able to replace her in his life. In other words, he never got married, though he apparently flirted with unattainable women. Some literary historians surmise that he was a homosexual, but most think that he was simply asexual and that his flirtations were more style than substance.
In 1747, two years after his father's death, feeling pressure to establish a country seat (a house in the country), Walpole took a lease on a cottage in Twickenham, southwest of London on the river Thames. The next year he bought the house, along with five acres of land, and learned that the house was called Chopped Straw Hill, a name which was not particularly appealing. So he changed the name of the property to Strawberry Hill and began to rebuild the house with an eye toward creating something remarkable. Rosemary Hill writes, "Strawberry Hill was the first house without any existing medieval fabric to be built from scratch in the Gothic style and the first to be based on actual historic examples, rather than an extrapolation of the Gothic vocabulary first developed by William Kent. As such it has a claim to be the starting point of the Gothic Revival. Original as it was, however, Walpole's home had a context. Eighteenth-century Gothic architecture was associated with considerably more than misty medievalism" (https://web.archive.org/web/20110615095835/http://entertainment.timesonline.co.uk/tol/arts_and_entertainment/the_tls/article7130418.ece).
In addition to Walpole's initiating the Gothic Revival in architecture, he began a Gothic movement in literature with the publishing of his most famous work, The Castle of Otranto. The novel features many of the characteristics of Gothic literature—a gloomy castle/monastery/ruins; the presence of the supernatural; curses or prophecies; a hero and a damsel, sometimes one or both being noble persons disguised as peasants or believing that they actually are peasants; passion and romance. The Castle of Otranto led to a whole genre, including the novels of Ann Radcliffe (like The Mysteries of Udolpho), Jane Austen's Northanger Abbey, Jane Eyre by Charlotte Bronte and Wuthering Heights by Emily Bronte, and a host of contemporary romances.
In addition to The Castle of Otranto, "He also wrote The Mysterious Mother (1768), a tragedy with the theme of incest; amateur historical speculations such as Historic Doubts on the Life and Reign of King Richard the Third (1768); and a work on art history, Anecdotes of Painting in England, 4 vol. (1762–71)" (https://www.britannica.com/biography/Horace-Walpole). In some respects he was a polymath, but just not a very ambitious or accomplished polymath, which might mean that he was really a dilettante ("a person who takes up an art, activity, or subject merely for amusement, especially in a desultory or superficial way; dabbler," according to www.dictionary.com).
Walpole cultivated letter writing as a kind of art. He modeled his letter writing on the French Marquise de Sévigné, Maria de Rabutin-Chantal. Horace Mann, to whom Walpole wrote the letter in which he coined the word serendipity, was a British diplomat whom Walpole met during his Grand Tour, and the two corresponded for some 45 years, though they never met in person again. It is almost as if Walpole was even a dilettante in his personal relationships. But his letters comprise a fascinating historical and cultural account of eighteenth century England, and it is serendipity that so many of his letters have survived.
The photo is of "The recently restored Strawberry Hill House, seen most comprehensively from the south-east" (http://www.victorianweb.org/art/architecture/strawberryhill/1.html). All that house for a man who was single his entire adult life!