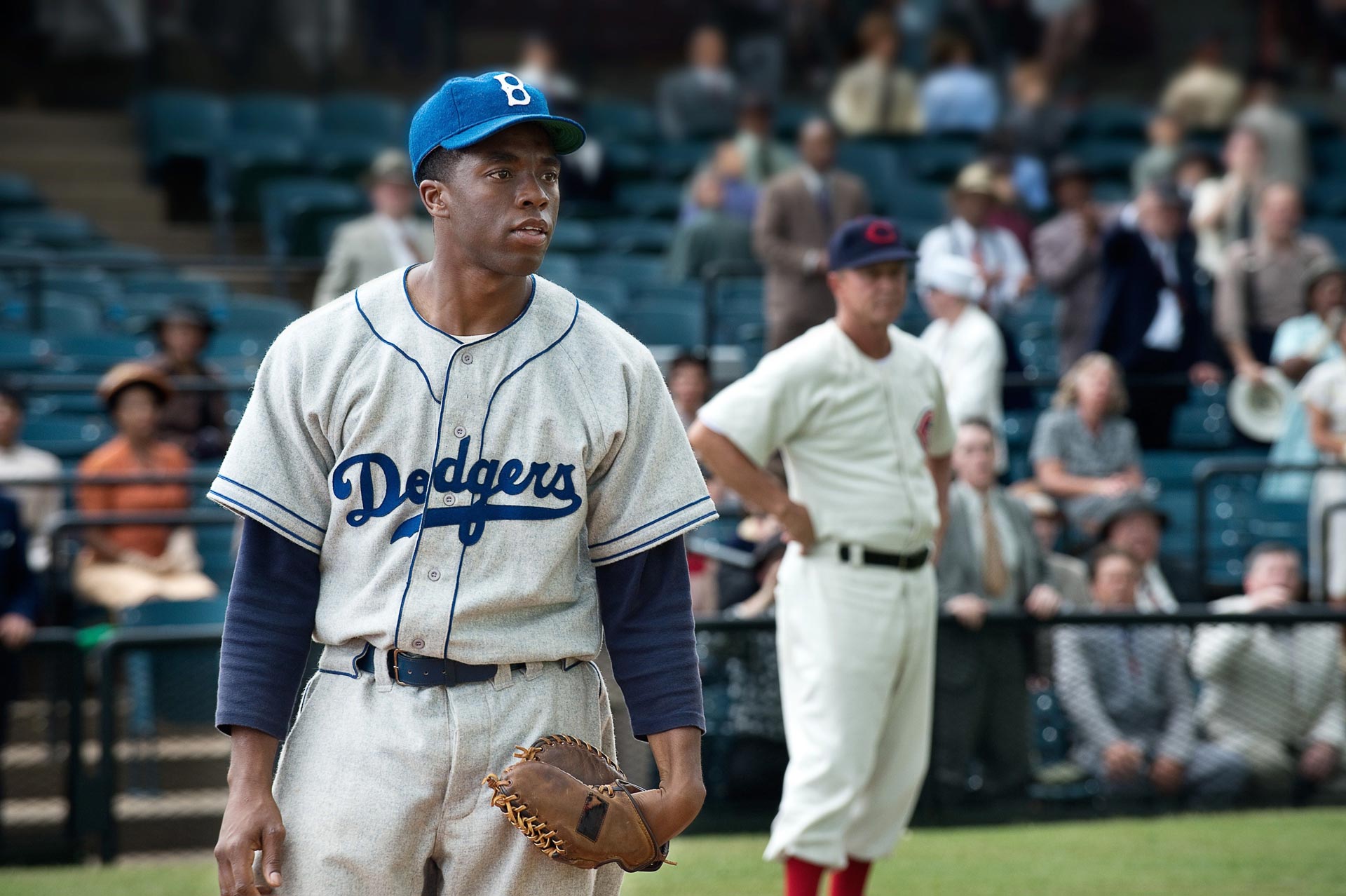 Jackie Robinson the Pioneer – A Review of 42
Quinton Bent
Written and directed by Brian Helgeland and produced by Thomas Tull, the movie 42 is an American biographical sports film that follows the racial integration of American professional baseball through the lens of baseball player Jackie Robinson's life. (Robinson wore the number 42 during his career as a Major-League Baseball player.) 42 stars Chadwick Boseman  Jackie Robinson, in addition to Harrison Ford, Andre Holland, Lucas Black, Alan Tudyk, Nicole Beharie, Christopher Meloni, Hamish Linklater and Ryan Merriman in ancillary roles. The film received largely optimistic reviews from critics and viewers, and was a financial success as well as it earned nearly $97 million on a $40 million budget.
42 doesn't take long to show off the struggles Jackie Robinson and his fellow African-American baseball players had to endure. One day, Robinson and his non-professional, segregated Negro League team – the Kansas City Monarchs – stop to get gas in the middle of their road trip. When the worker declines Robinson entry to the public washroom because of the color of his skin, Robinson does not argue, but simply tells the worker they will find another gas station. The attendant quickly laments and lets Robinson use the washroom. While Robinson is walking off the bus, a scout for the Brooklyn Dodgers (who was referred by Branch Rickey, played by Harrison Ford) meets him and offers him a spot on the Brooklyn Dodgers, a professional, Major League team. He is offered $600 per month under contract and a $3,500 signing bonus, both of which Robinson quickly takes. Robinson becomes the first ever African American to play in the Major League. His career is not all-smooth sailing, however, because many players, managers, and fans are highly racist. Robinson's captain Pee Wee Reese (Lucas Black) realizes this situation and comes to empathize with the burden Robinson is faced with on and off the field, realizing that Robinson is no different from him or anyone else. During one game, Reese goes so far as to stand in the middle of the field with his arm around Robinson, publicly displaying his acceptance and solidarity with the African American player and instantly silencing the hateful crowd.
What makes this movie so interesting is the fact that it doesn't shy away from sensitive topics. If the use of the "n-word" in Django Unchained offended you, then you will be highly offended by the language used in this movie. For example, one scene shows the manager of the Philadelphia Phillies (Ben Chapman, played by Alan Tudyk) jumping out of the bench and screaming harsh racial slurs towards Jackie Robinson. During this incident, you can easily see the fury and pain in Robinson's eyes while he tries to focus. Robinson knew that if he retaliated, the news headlines would not have been about the racist manager, but rather about the first African-American player in Major League baseball "confronting" that manager in a less than civil way. This scene is hard to sit through and watch because the audience is made to feel like a helpless bystander.
During the time the movie is set, Major League Baseball's moral scale was sliding. This is made evident when Brooklyn Dodgers manager Leo Durocher is suspended for the remainder of the season for engaging in sexual activities with a married actress, while Chapman was basically only given a slap on the wrist for his racist remarks towards Robinson.
This horrible time in history was only 1947; recent enough that someone reading this review could still remember it. It is shocking, however, to think that younger generations may not know anything about Robinson other than that his number, 42, is retired by Major League Baseball. This alone is a strong enough reason for people to watch the movie, though 42 is a very important film that deserves to be watched by all. A movie such as this is long overdue to be shown in a theater.
However, this movie is not necessarily a grand slam: it is more of a ground-rule double. As written by Brian Helgeland, 42 is knowledgeable and factually considerate. Quality wise, this film is unexceptional – however, it is about an extraordinary man.
Boseman is a strong performer, especially in how he looks like an actual ball player in the spring training scene and game-time sequences. Most actors look like they know absolutely nothing about the game, but not Boseman. However, other than one outburst where Robinson breaks his bat out of the sight of his fans and teammates, we seldom get a true sense for the burden Robinson surely felt when he made his debut in 1947 as an activist. There are acts of racist fans mocking Robinson, and many of his own teammates even signing a request which demands Robinson not be approved to join the ball club, but 42 fails to give us the full picture of Robinson. The Jackie Robinson in the movie can be compared to a lesson taught in high school, missing the density and nuance of the man himself. Even the parts that feature the gorgeous Nicole Beharie in the role of Rachel Robinson depict a picture too perfect. In real life, Rachel Robinson was a hero, but the movie takes her heroism to borderline sainthood, tolerantly encouraging Jackie to hold his irritation, and looking like a celebrity as she calmly withstands the losers in the crowd around her.
In the music, the scripting, the subject matter, and even the movies melancholy tone, 42 has the makings of an Oscar winning movie, but it still does not meet Hall of Fame standards. Jackie Robinson was an outstanding, Hall of Fame caliber man. 42 is, unfortunately, average.