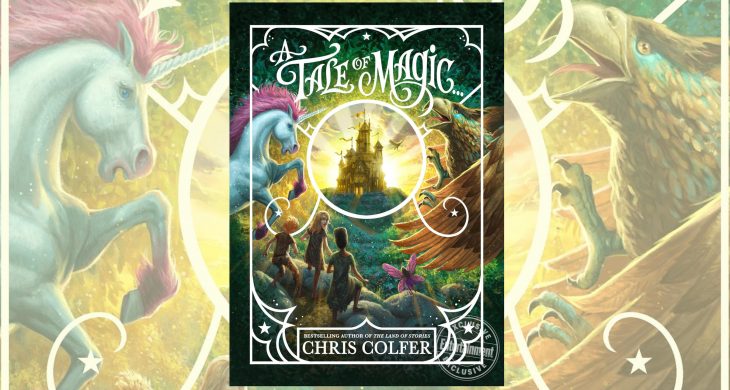 Book Review: A Tale of Magic
A Tale of Magic is a book written by the young writer, Chris Colfer. It is indeed what the title offers. It is a tale of magic, and the magical world that lies within the book brings the reader to a place beyond what they may know concerning science fiction and fantasy. This novel is full of fairies, magic spells, and other sorceries, and it appeals to the younger readers. However, there is an underlying message that is within the novel. It brings to the table a few things that modern society deals with: oppression, racism, and consequences of right and wrong actions.
The underlying message is a tale of injustice. Brystal Evergreen is the main protagonist of this novel. She is the fourteen-year-old daughter of a judge in the oppressive Southern Kingdom. She has the unwavering urge to read, and she engrosses herself in the books her brother gives to her. However, women in the Southern Kingdom are not allowed to read any sort of book at all, and it is also against the law to educate the women there. All the education belongs to the men of the kingdom. Her brother is attempting to enter the school of law and follow the steps of his other brothers and his father. It drives Brystal crazy, but she does find a way to read when her mother finally takes her books away. She does know the laws of the land better than anyone else in the story, so she uses this to her advantage. She can only be around books when she is working a job, as the law states.
Brystal obtains a job at the library, and she promises the librarian that she will not read the books, but she goes against that promise. She begins to read to her heart's content. She almost gets caught when she reads past the morning hours and has to run home. Her mom finds out, and she begins to see the ambitious side of Brystal. Her mom is witnessing her with wanting to do greater things than cooking and cleaning. One night, Brystal finds a secret passage to where the law books are kept in the library. She lets her curiosity get the better of her, and she finds a book on Magic. She begins to utter some of the words aloud and begins to do something magical. Turns out, she has a certain magical capability. She is found out by the authorities and is arrested. Magic is forbidden in all the kingdoms, so she is taken away. A strange woman named Madame Weatherbe steps in to save Brystal. The Madame takes her to the In-Between Land to her Academy of Magic, and it is here where Brystal will learn the ways of magic.
It is easy to see that this story is unlike most politically charged works of literature. This story, published in 2019, mixes an element of fantasy and realism which brings divisive issues faced in real life, still, today. Chris Colfer does his work thoroughly, and he shows how women suffer from oppression. Brystal faces the opposition that she cannot learn outside of doing household duties. His protagonist is a little fighter, however. She will stop at nothing to achieve her goal of learning more about her surroundings and herself. The lesson that Colfer wants others to learn is to be persevere through all of the animosities of life. Find that niche and work with it.
However, children should be of a mature age when reading this text. It is politically charged, and it takes a set level of understanding to truly grasp the concepts that Chris Colfer is attempting to project. This novel is good for adults who want to expand their political savviness. Through the use of fantasy, they will discover this realm is full of a common negative energy that surrounds the United States in a lot of ways. There is a defined patriarch, and there are the minorities that work against the grate to prove themselves of a proper title. The little men and women fight to better themselves for a greater purpose despite what the upper crust desires.
This movement expressed within the novel can be compared to the modern-day movements of feminism and the equal rights movement. These movements were very crucial in our history, and as a History Major, these subjects speak volumes to me. This makes the novel very readable and interesting to the senses. I like how this book incorporates these issues, but again, children need to be at least in their early teen years when reading this novel.
For the audience, this book is inspiring to those that want a glimpse of what oppression looks like, especially the type of oppression that women have faced throughout the years. Oppression is not a joke, and the world does need to learn more about what oppression is and how it plays out in society. Through the use of fantasy, Chris Colfer does well with incorporating magic as an outlawed art and showing the oppression that women face by placing education laws and other restrictions that hinder their daily activities in life. These are real life problems that do need to be addressed.
The imagery is truly magnificent. The castles, the struggles, and the many themes, like perseverance and uses of magic, are projected in ways that are very visual to the mind. The struggle of Brystal is defined through her heroic actions, and the novel is just colorful. The language used is strong, but it is constructed in a way that flows easily for the reader. Being a children's book, for the most part, this will help young readers develop in their reading skills.
If you desire a solid read that is magical and enticing to the senses, by all means, this is the book for you. However, if you are not a fan of political aspects, then this book is not for those people. This is an emotional journey, and this novel desires a mind and a heart that is strong enough to undertake the struggles that are depicted. Chris Colfer has a work of art, here.
*Image belongs to its original owners. No Copyright Infringement intended.