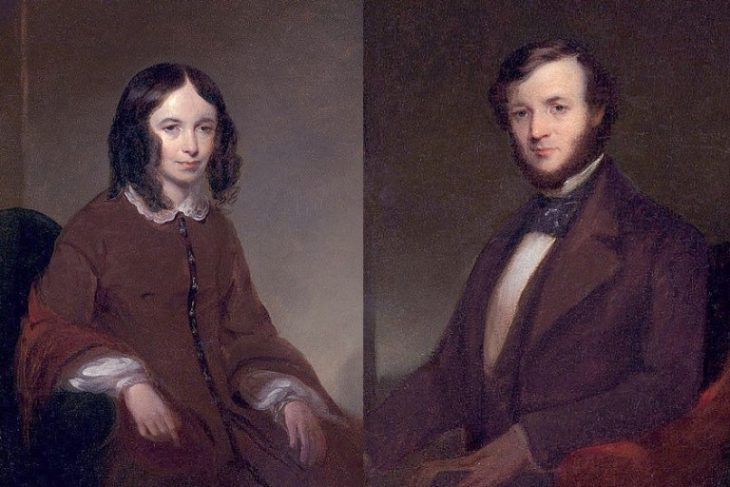 Word of the Day: Uxorious
Today's word of the day, according to www.wordgenius.com, is uxorious. The word is an adjective which means "Excessively affectionate toward one's wife." Another definition is "doting upon, foolishly fond of, or affectionately submissive toward one's wife" (https://www.dictionary.com/browse/uxorious?s=t). According to www.etymonline.com, uxorious entered the language in the "1590s, from Latin uxorius 'of or pertaining to a wife,' also 'devoted to a wife' or 'ruled by a wife,' from uxor (genitive uxoris) 'wife,' according to Watkins from PIE *uk-sor- '"she who gets accustomed" (to a new household)' after patrilocal marriage."
On this date in 1845, a letter was postmarked from New Cross, Hatcham, Surrey, England from the poet Robert Browning to the poet Elizabeth Barrett. The letter began, "I love your verses with all my heart, dear Miss Barrett" (https://www.gutenberg.org/files/16182/16182-h/16182-h.htm). Later in the rather short letter he said, "Do you know I was once not very far from seeing—really seeing you? Mr. Kenyon said to me one morning 'Would you like to see Miss Barrett?' then he went to announce me,—then he returned … you were too unwell, and now it is years ago, and I feel as at some untoward passage in my travels, as if I had been close, so close, to some world's-wonder in chapel or crypt, only a screen to push and I might have entered, but there was some slight, so it now seems, slight and just sufficient bar to admission, and the half-opened door shut, and I went home my thousands of miles, and the sight was never to be?" Well, that wasn't quite true, because later on Robert Barrett would meet Elizabeth Barrett.
Elizabeth Barrett was the eldest of eight children and a very precocious child who read and started writing early. She was raised at home and taught by a private tutor. In her early teens, she began to experience poor health, which involved headaches, other pain, and general poor feelings. She was treated by laudanum (an opiate) and morphine, and the early and continued use of these powerful drugs probably contributed to the poor health she suffered from the rest of her life. But the illness did not stop her from writing poetry, and she became one of the most popular poets of the middle of the nineteenth century.
Robert Browning was the son of a Bank of England clerk who collected books. Browning also began writing poetry at a fairly young age. After a couple of negative experiences at public schools, he was educated at home by a tutor. He published a volume of poetry, but it was paid for by the author using money acquired from family members. He also tried his hand at playwriting, but the truth is that he was pretty much of a failure. But the one thing he learned from writing plays was how to write a dramatic monologue, and on this genre he built his fame.
So when Browning wrote to Elizabeth Barrett, it really was as a fan to a very important person.
She resisted the relationship that developed out of that original letter, but he overcame her reluctance and her distrustfulness and won her heart. Against her father's wishes, they eloped and got married—as a matter of fact, she never saw her father again. They moved to Italy for her health, and they had a child together, but she died in 1861, after just 15 years of marriage.
Robert Browning encouraged her to continue writing and even oversaw the publication of her work, before and after her death. His own career also flourished. He returned to England as well as traveling around quite a bit. He did not return to Florence where Elizabeth Barrett died. Browning died in Venice, at the home of his son, in 1889.
Some people call the romance of Elizabeth Barrett Browning and Robert Browning one of the great love stories of all time, and perhaps it is. She was a chronically ill recluse, and he was a bit of a failure, but their unification through marriage led to relative health for her and success for him. Was his love for and devotion to his wife uxorious? Who are we to judge?
The image is "Elizabeth Barrett Browning and Robert Browning by Thomas Buchanan Read (1852)" (https://www.brainpickings.org/2017/07/07/elizabeth-barrett-browning-love-letters-truthfulness/