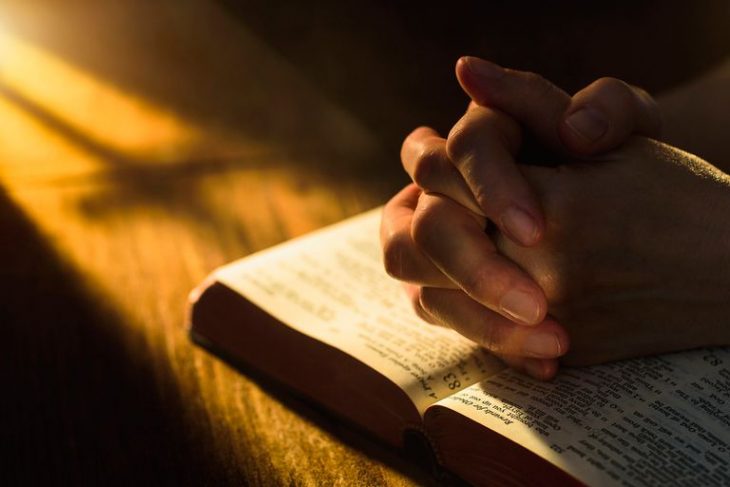 Liturgical vs Spontaneous Prayer
By Quinton Bent 
When it comes to prayer, every denomination and tradition has different tendencies. One with a more liturgical background such as Catholicism will have set prayers that are either read or memorized. These prayers were carefully constructed many years ago and have concise precision. The churches that follow a liturgical system, place high value on Christian history and what it has to offer. It is considered an honor to keep traditions alive, traditions that often times connect them to centuries of past and future believers.
Contrary to liturgical prayer, there are churches where prayer is almost entirely spontaneous.  During these spontaneous prayers, emphasis is put on the movement of the Holy Spirit in that very moment, as well as the fact that prayer is about a personal relationship with God.
In reality, the majority of our prayers fall somewhere in the middle of the liturgical versus spontaneous prayer spectrum. While our prayer lives fluctuate back and forth on the spectrum, very few people remain on the extreme end of one side. Some people likely have set times where their prayer is at least structured such as a per meal prayer or a commitment to pray for your family every night before you fall asleep. Some people likely follow a set acronym; ACTS: adoration, confession, thanksgiving, supplication.  There are some Christians who are extremely structured in their prayer life with topics picked out for each day. The question does not lie in which form of prayer is better, rather the question is what does each form of prayer contribute to your spiritual life.
One of the benefits set prayer offers is that it can help someone pray in situations where they don't really know how to or don't feel comfortable doing so. Because of the set script there is something specific, which means there is automatically something to say. If you have something to automatically say, then the excuse of not knowing how is nullified.            
The Book of Common Prayer is a good resource to have when looking for set prayers. In relation to numerous prayer books used in the Anglican Communion, the BCP contains morning prayers, evening prayers, the litany, Holy Communion and fully scripted services for Baptism, Confirmation, Marriage, prayers to be said with the sick, and funeral services. The BCP also sets out, in full, the "proper's" (the parts of the service which change weekly or sometimes daily through the Church's year: the introits, collects, and epistle and gospel readings for the Sunday service of Holy Communion (Jacobs).  Many people do not even realize they are praying a set prayer when they hear some of the prayers from the BCP. An example of a prayer found in the BCP is
 In sure and certain hope of the resurrection to eternal life through our Lord Jesus Christ, we commend to Almighty God our brother, and we commit his body to the ground; earth to earth, ashes to ashes, dust to dust. The Lord bless him and keep him, the Lord make his face to shine upon him and be gracious to him, the Lord lift up his countenance upon himand give him peace. Amen. 

BCP Burial II

Not only does the BCP provide a starting point for prayers when we are not sure, but it has also provided literature with some of the most commonly used phrases. Since the BCP has been used for many centuries, phrases in it have been unconsciously borrowed and used in non-religious context. The line "earth to earth, ashes to ashes, dust to dust" found in the Burial II is one of those phrases that have been taken from the BCP and used metaphorically in everyday life. When we use sources such as the BCP to help us with liturgical worship, know that we will be able to pray about any topic imaginable. There are no worries about forgetting a line, or not knowing how to start a prayer. Liturgical prayer contributes certainty and routine to our spiritual life .            
Unlike the structure of liturgical or set prayer, spontaneous prayer doesn't have to be organized or planned. Spontaneous prayers give us an opportunity to just talk to God and tell him what is on your mind. The advantage of this type of prayer is that it encourages an open and active relationship between you and God. It is also flexible enough to cover anything you desire. As long as you have an idea of what you need, or what you want to pray for, spontaneous prayer provides an opportunity for it.  Biblically speaking, one of the best spontaneous prayers comes from Nehemiah. When Nehemiah learns that the wall from the city of Jerusalem is broke and that the gates are burned down, his response is to fast and pray, "When I heard these things, I sat down and wept. For some days I mourned and fasted and prayed before God of heaven" (Nehemiah 1:4). His prayer
Lord, the God of heaven, the great and awesome God, who keeps his covenant of love with those who love him and keep his commandments, 6 let your ear be attentive and your eyes open to hear the prayer your servant is praying before you day and night for your servants, the people of Israel. I confess the sins we Israelites, including myself and my father's family, have committed against you. 7 We have acted very wickedly toward you. We have not obeyed the commands, decrees and laws you gave your servant Moses…11 Lord, let your ear be attentive to the prayer of this your servant and to the prayer of your servants who delight in revering your name. Give your servant success today by granting him favour in the presence of this man. 

Nehemiah 1: 5-11

His prayer is a genuine, heartfelt reaction to the state of his people and their city. There is an honest confession of his people's sins, and a request for God to be with him as he goes to the king to ask for a new wall.
Spontaneous prayer is the form one should go to when they know something is on their heart, something burning and needing to come out. From learning about liturgical and spontaneous prayer, it is important to first identity where one falls on the spectrum of structured versus spontaneous prayer. Once one has determined which side they are on, consider asking what the other side has to offer and what ways the other side could be incorporated. There are things to be gained from both styles of prayer and both can help create or deepen a relationship with Christ. There is nothing wrong with being creative or mixing up your prayer life a little. Trying new forms of prayer can never be a bad thing.