From Gold Rush to Literary Fame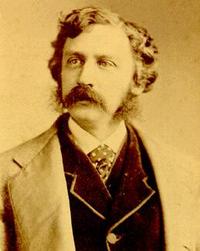 When most people hear the name Bret Harte they immediately think of the famous wrestler from the '80s and '90s, but few would think you were talking about the 19th century west coast writer of the same name.
Bret was finding it hard to make a living in California during the mists of the gold rush and his all too accurate descriptions in his writing about the citizens of California did little to get him any fame or steady work in the state, but to those not knowing much better on the east coast, it was like reading about a dirty secret and landed him a very comfortable job with 1871 with The Atlantic Monthly for $10,000 for 12 stories a year, the highest figure offered an American writer up to that time, and gave up his job as a professor at the University of California to head east and never looked back, though he never made through the first full year of his contract before he was dropped by the publisher due to, in my opinion, the rest of the world finally catching on to the subjective fact that almost all writing from Bret Harte's time period and some before it are boring and painful to read through, but again that is my opinion and his failing career is more factually represented due to a difficulties in his personal and family life.
Between 1873 and 1876 Harte published only seven stories and soon was deeply in debt. He made lecture tours through the Eastern Seaboard, Midwest, and the South, and his first novel, Gabriel Conroy, was a commercial success, but his financial troubles continued. In 1878 he accepted an appointment as the U.S. commercial agent at Krefeld, Germany, then served as U.S. consul in Glasgow, Scotland, from 1880 to 1885. Harte lived in London for the remainder of his life and resumed his writing career, but he never matched his success of the 1870s. He died of throat cancer in London on 5 May 1902.
I find Bret Harte to be a bit more interesting than most of the authors of the time period mainly due to his short stories interconnecting characters between works which is something that is not easy to do and make work at the same time. It showed an actual air of creative thought rather than the same blabbering about nature walks and religious and civil trials. I also enjoyed how he wouldn't fall back on being as accurate as he could in his descriptions in the everyday livings of the citizens of California which is something to be commended during the period of his writings. However, even with the compliments, I have for him I still wouldn't consider him a writer I "enjoy", but rather found easier to tolerate.