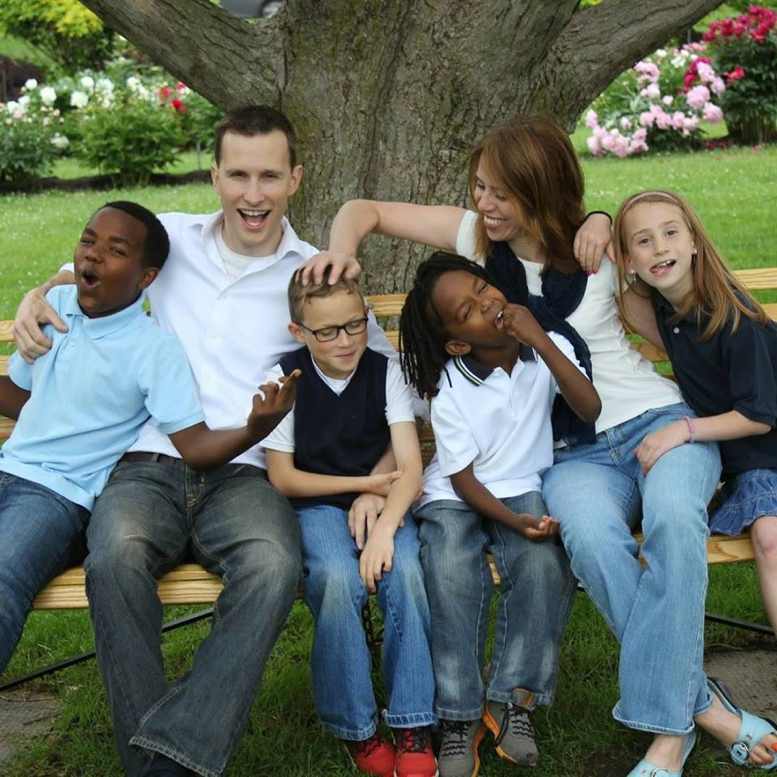 Canuck Talk—An Interview with Dr. Michael Tapper
Quinton Bent
Dr. Michael Tapper is the Chair of the religion division and associate professor of Religion. He is one of Two faculty and staff members who are Canadian. He is the father of four lovely children, three of which are adopted. Dr. Tapper likes to spend his free time with his family and watching his children excel in sports.
ME: First, I just wanted to thank you for taking the time this morning to meet with me.
TAPPER: No Problem Quinton.
ME: So how are you doing?
TAPPER: I'm doing great Quinton! Thanks for asking.
ME: That's good. Okay, to start things off, can you tell me where you're originally from?
TAPPER: So, Quinton, I grew up in Ottawa, Canada.  About 25 minutes outside of Ottawa City.
ME: What was it like growing up there? Did you have any siblings?
TAPPER: Yeah I have one sibling. A sister. She's two years younger than I am. I would describe my family upbringing as really supportive. We were close to the city, about 25 minutes from the city. But, we were also rural. Depending on family dynamics, we would kind of find ourselves driving into the city for events but we also enjoyed a rural upbringing as well.
ME: That's pretty much the same experience I have, being 25 minutes from the downtown core of Toronto. What was it like dealing with the harsh, Canadian winters?
TAPPER: Oh, wow, great question! Winters were just something we got accustomed to, Quinton. Like most Canadians, if you've grown up in and around Canada, you just get used to the fact that you could have snow in October and November and that same snow may just be there until March and April. My family always had an outdoor [hockey] rink. So, we spent a lot of time in the winter, out on the outdoor rink and on local ponds. A lot of my upbringing, probably like yours, revolved around sports. So, baseball in the spring and summer, and hockey in the fall and winter. It was a good, supportive, solid upbringing I had.
ME: It's really cool that we're both from Canada. I can't get over that fact that here in Central, South Carolina there's someone from the GTA (Greater Toronto Area). During my Freshman year here, I think there was only one other Canadian here and they ended up moving after the first semester.
TAPPER: Really eh? Eric Shae. He's a Canadian. He's on the golf team and besides that, I don't know many others. But he's from Brantford.
ME: That is definitely cool. That shows the international growth SWU has undergone over the last few years.
TAPPER: Yeah, we need to stick close (Laughter)
ME: How did you end up here at SWU anyway?
TAPPER: Yeah, good question. Most of my life Quinton, I have vacillated between public sector most of my adult life and ministry as a vocation. In the last 20 years, I have transitioned back and forth between either vocational ministry at a church and academics/public sector stuff.  A year ago at this time I was pastoring a church in Moncton, New Brunswick. I was part of the church in Moncton. SWU Reached out and asked if I might be interested in considering this position. It was intriguing to me, so I interviewed last March. I had a really positive interview process and made a transition here in July. Yeah, I really love this place. It was hard for my family to move, we're a family of six. My wife and I have four children. Three of which were adopted. It's important that my family feel comfortable; they are important to me. So, when we made this transition a year ago it was important for my family to experience a really good transition. And so far we're very happy with the way things have gone down here.
ME: That's good to hear.
TAPPER: A 15-year-old, a 14-year-old, 12-year-old and, 11-year-old.
ME: That's awesome, but a lot of work I can imagine. What brought you to your faith? How did you decide you wanted to be a pastor?
TAPPER: Great question. I grew up in a family that, during the early part of my childhood, had very little faith background. In fact, I grew up in a home where my Dad wasn't the most supportive; he drank a lot. That was just the way I was raised. In my teenage years, my mom had a life changing experience where she came to faith, that kind of changed the whole trajectory in my family. We were kind of heading in a direction and now fourteen/fifteen years after my mom had this experience with God, it kind of reoriented my whole family. My mom started attending church, and my sister and I started attending with her. My dad was slower to respond. It kind of just evolved, I guess.  My teenage years, I had some really great mentors. They were great examples to me; they became my heroes. And around eighteen or nineteen, when I was determined to fulfill what I want to do the rest of my life, I sensed a call to journey into this whole ministry track. So it kind of evolved naturally for me and I'm really glad that it did.
ME: Who would you say is your biggest influence on this journey?
TAPPER: You're asking great questions. I've had some key mentors throughout my life like I said earlier there. My teenage years it was a youth pastor who invested really heavy in me, Kevin Wilson was his name. In my University years, undergraduate years, it was a university president that saw a bit of potential in me and invested in me that way. As an adult, there've always been people I try to surround myself with that are mentors. I'm always trying to find people (maybe you can relate) that are a step ahead in life or one step better in a skill than I am. And I like surrounding myself with people like that, who will stretch me. I've been blessed with good people in my life.
ME: I may have missed this, but just to be sure, did you say you knew, for sure at a certain moment that ministry was the right path for you?
TAPPER: I know I said it happened gradually but looking back, my high school years I was tracking pretty heavy towards the sciences, believe it or not.  It's kind of scary as I look back, Quinton. A week before my freshman year in University I was heading into an engineering program at the University of Ottawa (in Canada). I ended up making a shift about a week before school started. I went to a Christian school, which was a big change. Looking back, I can see how that moment, that transition, was a hinge in my path. If I had gone a different direction early on there, just knowing my personality, I'm a bit of a pit bull. When I want something, I lock on to it so, I don't know where my life would be if I hadn't made that decision way back in 1993 or '94. So how did I make that decision? In some ways, it was gradual. I knew that I was trending towards either vocational ministry or education as a vocation but, in other ways, there've been moments in the road where I've kind of had to make choices.  Thankfully God has guided me through this and I've never felt like I'm alone through this decision-making process. God has always brought important people to my life at key moments.
ME: Since you're fairly new here at SWU, what do you feel like the biggest difference is? What separates SWU from any other institution you've been at?
TAPPER: Great questions! My world is primarily in and around the religion department. I have taught six courses since I've been here, Quinton. Five out of the six courses have been general education courses like Basic Christian beliefs, New Testament, and Old Testament. I love the fact that I have an opportunity to interact with people like you. Part of what has drawn me towards general education courses is that I feel that faith integration is really important. You may not end up attending a local church, you may not end up being a minister but, my sense is that you will bring (I hope you will bring) a component into your experience as maybe an English teacher or whatever you may want to pursue in life. What makes SWU a little bit different I find, is that the faith integration piece is top priority. I think it's a priority as well, and part of my responsibility as the chair of the religion department is to make sure that our religion majors are well prepared for ministry. The other part of my job is to help students, like yourself, who aren't religion majors, recognize that your faith, regardless of what profession you enter into should be the key priority in your life and vocation. I love that about SWU, that they make faith integration a priority. I think that sets us apart from other schools that offer a fine education but don't offer a faith component. Frankly, I love what I see happening in and around the sports teams here on campus. I've got a couple of your teammates in my classes and I like the way they think and ask questions.
ME: I agree that the faith integration is very unique here at SWU. I grew up in a Catholic school back home in Canada. The difference up there is that there is a strong push for secularism. Even though I was in a Catholic school, there was not a strong push to integrate faith in our education. People only go to these schools because they are "nicer" and more funded.
TAPPER: Yeah, I understand that. My sister is a teacher in the Catholic school board in Canada. Granted, coming from Canada and now, for both of us, living in the south, there is a major difference in people's faith.
ME: Aside from your position here at SWU, do you have any hobbies? Jobs on the side?
TAPPER: Sports were always a big part of my life. I grew up watching the Toronto Blue Jays. I grew up in Ottawa, so I'm a big Senators fan. So sports are a big part of my life. Particularly with four children who are sports fanatics or sports engaged, most of my extracurricular time at this stage of my life is driving to volleyball practice and hockey practice. Not so much hockey now that we moved to the South, but still volleyball and baseball. My son is in track and football right now but yeah, a lot of my extracurricular activities take place through my children. I do like to run during the free time that I do have. I run, and sometimes do a light workout to stay in shape.
ME: That's really good. Well you just practically answered my final question, but I'm going to ask it anyways. Whats your favorite sports team?
TAPPER: *laughs* The Toronto Blue Jays are looking pretty good this year if Aaron Sanchez can stay healthy. Stroman looks like he'll have another good year. Okay so the Toronto Blue Jays in baseball and the Ottawa Senators in hockey even though they are struggling this year. I'm also a big Toronto Raptors fan. It's so nice to talk to a fellow Canadian down here.
ME: Yes, it certainly is, sir. Thank you for taking the time to sit and talk with me today, I really appreciate it.
TAPPER: Not a problem, Quinton. I enjoyed it.