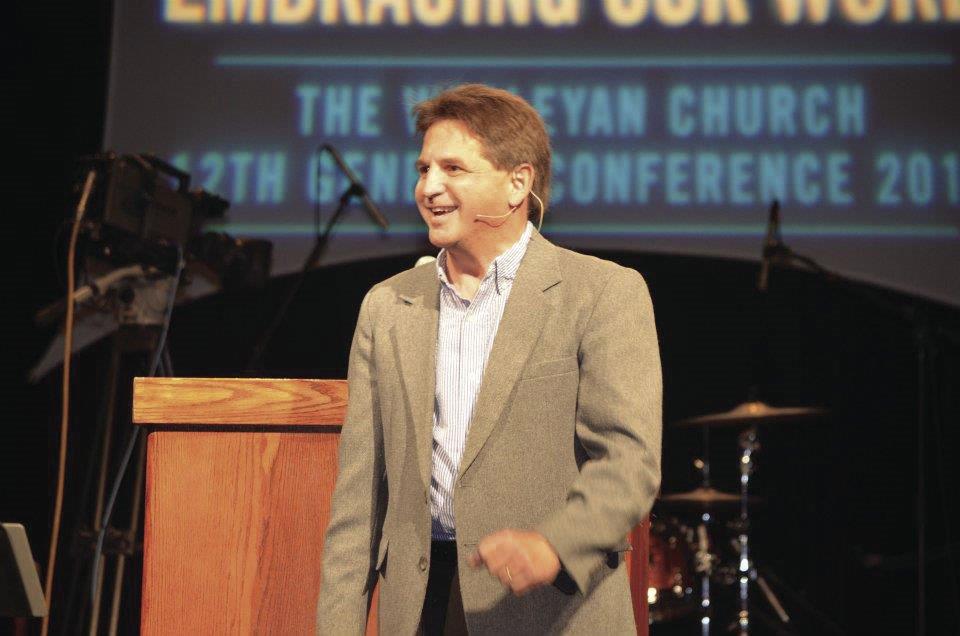 Cheyenne Davis
Mark Wilson is a professor in the Religion division here at Southern Wesleyan University. He has just recently moved to South Carolina for this position and openly expresses his excitement for this amazing opportunity. Below is a commentary on how his first year has been with a brief background of his life before coming to Southern Wesleyan.
ME: Since you've just recently moved here, how do you feel about the area?
WILSON: Oh, I love South Carolina. I haven't missed snow one bit, although it did snow an inch down here or something like that. I love the warmth. I love the warm people. It's just a beautiful thing; people are so welcoming and kind and good to us, and Southern Wesleyan University is just an amazing place to work. I never dreamed I'd be able to serve in a place like this.
ME: Okay, what led you to Southern Wesleyan University?
WILSON: God did. It really was. I say, "God and Todd." Dr. Todd Voss is our president. God woke him up in the middle of the night with an idea to create this position for me. He called me the next day, and I said yes. It's been quite an exciting adventure.
ME: What do you feel has been your greatest blessing while you've been at SWU?
WILSON: Wow, the greatest joy for me is investing in the lives of younger people. You know, I'm getting on in my years now, and all the students here are younger than my own children pretty much. Well, my daughter is an exception to that, but by large all of my children are older. What a cool thing that I can pour my life into them, so I can take things that are dear to my heart and carry them on to the next generation. That's been neat. Also, it's been really cool: when I taught Basic Christian Beliefs there have been people that have opened their lives to Jesus and sense a call to ministry of some sort, and I have been able to pray with some people and help them navigate what God might be doing in their life and future. That's thrilling for me, and another part of what I do here at the school is to come alongside pastors and encourage them, so on a lot of weekends I'm not here, I'm out traveling somewhere. In fact, before you and I met, I was speaking with a pastor. Just speaking words of encouragement into his life, and that is just a beautiful thing I get to do. I love that part of my job.
ME: What are your favorite ways to be active in the church?
WILSON: Well, up until just a few months ago, I was really active because I was the guy in charge of the whole thing. I was there 26 years in Wisconsin, and I was the guy in charge of it all. I had a staff and assistant pastors, and I love when I'm not out speaking somewhere else and get to come to church. I love coming and being with the people of God and just worshiping with them. Pastor Tom is a great encouragement to me; I've been able to teach at Alive Wesleyan. I do some teaching there for them, but I'm not a real regular because I realize I am only there maybe one time out of four because I'm out speaking somewhere.
ME: Where do you enjoy being on campus in your free time?
WILSON: You know, different places for different things. If I need solitude I go to the John Wesley prayer room. I love that place; it's meaningful to me. If I want to see some students and encourage them, I go to Blue Hill and then I'll find them. They're always there. If I'm puzzling about an idea and I don't know what it could possibly mean, I go to the library. I love plundering the library, too. There are different parts that I like that are for different things. I like the Potter's Place. That's a fun one, and another thing I like to do is just taking walks around campus. A lot of times I'm walking and praying, so I'll pray for people as I pass them and smile and wave. They don't know I'm saying a prayer for them, but that's what I'm doing.
ME: When I met you for the first time we talked about Freedom's Hill. Can you talk a little bit more about that?
WILSON: Oh yeah, that's one of my favorite places. I just don't go there as often as I want. In fact, I have a brick from Freedom's Hill, and this is the original lock for the door. It's the original latch that they used. I got it years and years ago. Maybe we should put it on the door. This was an original foundation brick for Freedom's Hill. 1848. The story behind these is I went to the place where Freedom's Hill was, and, of course, it been long gone. It had been torn down and moved away. There was an old farmer I talked to that lives near there, and I asked him, "Do you know where the Freedom's Hill Church was?" because that's where my GPS took me, and he said, "Over here!" He walked me through the woods and said, "It was right here. Here's where the altar was, and there is where the preacher preached, and this is where the people sat." He also said, "When I was a little boy I knelt down right there, and I gave my life to Jesus." So, I knelt down right there, and he laid his hands on me and prayed for me. I dug around and found that brick, and I took it home with me. The old farmer said, "Well I have something that you will like in my garage." He went back and pulled out the latch and gave it to me. So, I love Freedoms Hill. It has such symbolism about courage and compassion, caring for people who may be disempowered, standing beside them, and doing what you can to be there for them and help them. Compassion and kindness. Crooks lived that way. His question was, "Are you willing to give your life for the cause?" Every time I walk in there, this is the question that haunts me. Am I willing to give everything for this?
ME: What has been the greatest challenge about moving here?
WILSON: The greatest challenge for me is leaving my grandson Beckett and his daddy and mommy. Ryan, his dad, is not only my son but was my worship pastor in the church that I left. He's still there as the worship pastor. Stacy is his wife. Anyway, they lived a block away from us. We just love being with them. One thing that made it a whole lot easier is that we have a son here, Wes, and Jeweleeann, his wife. Wes just graduated in December from here. When he moved here to be a student, I had no idea I was going to be going to Southern Wesleyan University, but we helped him move in and now a couple of years later, here I am. His graduation day where he marched down the aisle to receive his diploma was my first commencement, and I thought that was pretty significant and neat.
ME: What classes do you teach here at SWU?
WILSON: Basic Christian Beliefs. That's the general education I've taught so far, but then ministry stuff. The practical ministry courses. So, I'm doing Church Leadership and Preaching, and I'm doing Urban Plunge in May. I'm taking students to the inner-city in Washington, D. C., and we are learning while we are doing stuff like that.
ME: What part of the material that you teach is your favorite?
WILSON: I like teaching the practical things, and that's the reason they brought me here. I've been a professor for a long time, so I know what it is to be on the front lines of ministry and can share stories with them. Another thing I love to do in class is surprising them. Like, a lot of times in the middle of class I will say, "Follow me," and I will walk right out of the door, and then they're like, "Say what?" Then they start following. So, I did that a couple days ago, and my wife happened to be in the class that day. She heard a student say, "Well, here we go again." We just go to different places around campus. I do not want them to just sit there for a whole hour and 15 minutes I want to mix it up a little, so I try to find things that we'll do that keep you engaging and excited.
ME: What did your life look like before you came to SWU?
WILSON: Like I mentioned I have been a pastor for 26 years, so I went to church. I was a pastor of the whole community. It wasn't just being a pastor of the church; it was pastoring an entire community. A lot of times I was the designated pray-er for all of these events in our church. We did a lot of stuff to help people in the community who were struggling or having financial issues. We just came alongside them and helped them out. I preached lots of weddings and funerals and stuff like that; I've done a few hundred of each of those. This is a whole different world. However, I've told my students: I'm not really a teacher; I'm a pastor cleverly disguised as a professor, so I still get to do my pastor stuff just in a different way.
ME: What do you like to do with family after school around the area?
WILSON: Well we were exploring things like waterfalls, which are wonderful, and the Botanical Gardens in Clemson. So that's my favorite thing to do. To just go outside and explore because we are still learning the area and the history. I love history. We take walks just about every day.
ME: What is your life verse and why?
WILSON: Oh, that's a good question. I have three. I think it changed recently, but this is the one I have now. It is three verses condensed into one. It is "Rejoice evermore, pray without ceasing, and in everything give thanks. This is God's will concerning you." This is what God wants me to do. It says give thanks for everything; some things are pretty crummy, but there are good things in it. I always find something to rejoice over, and I keep on praying. I don't have to fret about it; I can pray about it. I really love those verses.
ME: What was your other life verse?
WILSON: "I can do all things through Christ who strengthens me." God gives me the juice to do whatever it is I need to do. So, you could say I have four life verses.
ME: What do your written works focus on?
WILSON: I wrote two books. One is called Filled Up, Poured Out. That's a book about spiritual replenishment, especially for church leaders; I wrote it primarily for pastors, like a pastor who maybe feels depleted or discouraged. The other book is called Purple Fish. Which is about sharing Jesus with others in a non-preachy, non-judging kind of way. It's kind of coming in from underneath. The two words for it are "bless" and "encourage". I'm teaching people how to bless and encourage someone. That book has gone all over the place. I was surprised at how it had gone and made its way all over the world. That's been a real blessing to me. The idea is to you. Period. Call it evangelism for non-evangelists. Instead of thinking of sharing Jesus as sales, think of it as being genuine. It's been received pretty well.
ME: And you mentioned conferences earlier. What is usually your role and what do you usually speak about?
WILSON: I speak at pastors' retreats, camps, conferences, spiritual renewal weekends, churches and stuff like that. It's so awesome; for all the pastors, some Purple Fish training, so a couple times a month, I am out somewhere doing something like that. It is fun; I really enjoy what I do.