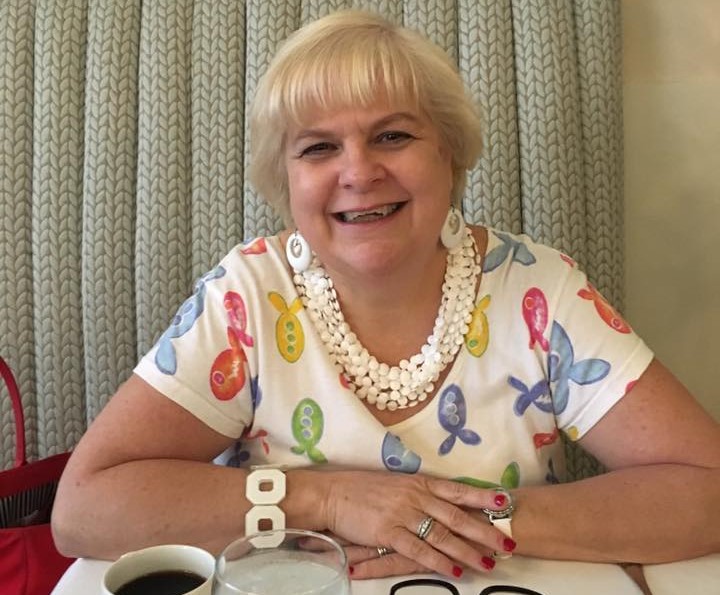 What God Chooses for Me—An Interview with Kim Welborn
Rebecca Reese
ME: Tell me about your story. How did you come to Christ?
WELBORN: My story…The two greatest influences in my early life were my grandmother, who I called Mama, and my mother. And as I like to tell people about my church membership, I have always been a member at St. Andrews United Methodist Church, which used to be Easley United Methodist church and I've been a member of that church since I was in the cradle. I don't ever remember a time in my life I did not know who Jesus was or did not know who God was. I was taught from before I was brought into this world who Jesus was who God was. But when I was nine years old, we were having a youth rally at our church, and it was on a Sunday evening that I accepted Jesus Christ as my Lord and personal Savior and I joined the church. At that point in time in the Methodist church, when I was born, we had a service that parents dedicated the child and it was a time when parents said we will raise this child in a Christian home, and I was baptized when I was nine. Now we baptize infants and confirm them when they decide they're ready to be confirmed. I was baptized in the Methodist Church in the great tradition of sprinkling. When I applied for promotion and tenure, that's what I submitted as my proof of church membership was my baptism certificate and other documents where I had been actively involved in my church for all these years.
ME: What role have language and literature played in your life? Why is it so important to you that you decided to make your profession?
WELBORN: From the time I was very very young I was fascinated with words. My grandmother was a wonderful storyteller. I don't ever remember her reading to me. I don't really remember my mother reading to me. My mother and my grandmother were just tremendous storytellers, so I was always fascinated with words from the them. I was very young and words interested me. Like the Juergens lotion commercial. I loved those words, "Your hands feel beautiful with Jergens lotion." And I would wake my parents up on Saturday morning, stretched across their heads, singing that song waiting for them to wake up, to be fed and to watch TV. So, words have always been great part of my life, and it was when I was a senior in high school in Jane Einstein's English class, and I had a 9th grade English teacher, Gwen McAll, who really brought me to the love of plays and theatre. My mother had taken me to see plays from the time I was a very young child. We went to see the children's plays at Greenville Little Theatre. I remember seeing Cinderella thinking, "How did she changed clothes? How did that happen?" I was just fascinated with all of that. But that ninth grade English teacher, Ms. Gwen McCall, who just brought me to a love of reading and my 12th grade English teacher, Ms. Jane Einstein, absolutely brought me to a love of literature. But even at that point I was not going to major. I didn't just graduate high school and major in English. I was going to major in music. I knew that all along from the time I started taking piano when I was in third grade and I fell in love with it. I knew I was going to be a music major and went to Oral Roberts never thinking about teaching English. Never. I went to Oral Roberts thinking I was going to major in music. So it was 17 majors and three colleges later. Before I answer that called to teach. In which we live, especially in the electronic age, if we cannot communicate our thoughts clearly we are destined to a life of being misunderstood. I'm seeing that more of late than I have previously, because in my second job, it is critically important that we communicate clearly. I mean all of our work we do online through e-mails. I had recently a situation where a woman sent me a copy of something I had written on the copy that said, "Inc. Correction." And she sent back and asked me what it meant. And I said "Inc." if its used after a business means incorporated. But in this case it means "incorrect correction." I was called out on that for being hateful; that my response was hateful; that was not what she was asking. I'd say it was just a failure to understand the message. I thought she didn't understand the abbreviation. She didn't understand why I had marked the correction. It caused a huge upset. I mean, I cried over it. And you know the boss in Colombia my boss in Easley and said, "He thinks you're being smart. He thinks you're being hateful." And I said, "No, she asked me this question. This is what it was." So I think more today than ever we have to have a real clear understanding of language to ask questions precisely. It all started because the question was not asked precisely.
ME: Going back to our discussion on teaching, how did you become a high school teacher? How did you become a teacher here at SWU? Was it always a calling on your life?
WELBORN: It was always a calling, but I didn't know it. I always thought I would work in the church. I would do church music, and then the summer between my freshman and sophomore years, I worked at the Methodist camp. I thought I would go into Christian camping. I just always thought that's where I would be. But when I was a sophomore I went back to Oral Roberts knowing I would transfer to Clemson in the spring to major in forestry to pursue that draw I discovered that summer of being in God's world. And so I filled out the application packed everything up at Oral Roberts. My dad worked for Southeastern Freight, and he brought a truck and picked up all my earthly belongings .  I knew I was going to get into Clemson, and I did get in but I couldn't get in the forestry department in the middle of the year. So, therefore, I decided that I'd had it with college. I just wouldn't do that anymore. My mother and all her radiance sent me down to the South Carolina unemployment agency to get a job. I never seen people like those who were sitting in that office and I was the last one to be called back and I was offered a job at Bi-Lo, and I can remember driving back to Easley to mother's office and getting in her lap crying. I said, "I'll do anything but I have to go back to college. I cannot work at the Bi-Lo." And so she called Clemson and they said she can come in in the fall. Mother said no she's got to do something now. And they said well go to Anderson first semester she needs some science courses and then she can go into that forestry program but we only admit students into that program in the fall. So I went to Anderson. I literally walked in my first English class and knew when I set foot in that room, "Kim, you were called to teach English." And I think back over all my life loving those words, always loving to read, couldn't go to the library enough and couldn't have enough books, always had a book in my hand. I thought this is what I was supposed to do, and it was a funny thing. Everything had been hard. Until I decided to major in English, and then all the pieces fell in place. I'm going into Clemson as an English major and just all the doors literally flew open at that point. So, it took a while for me to get where God meant. But none of it was wasted on the way there. We're just getting in the right place.
ME: And you said something about nature and finding God there. Do you think that your love of nature and how you connect to God are connected?
WELBORN: That summer after my freshman year was one of the most important times in my life. It was, even though I had been at Oral Roberts, it was really the first time I was in a place that I knew well. I had grown up going to that camp. It had always been my dream to go back as a counselor. I had already taken a job this summer, because I didn't hear that I had gotten the job until later on. Because you know how it is in college you get out in April, so I was sitting around. I couldn't afford not to worry. My parents were separated. I had to work to help pay the college bill, and so mother got me a job ironing 52 hours a week. And then I got that job at camp. Mother said I have to go. From the first minute I was up there working as a counselor, I knew I would have a connection to that place for the rest of my life and I'm going to probably jump ahead, but what is so amazing about all of this, OK. I was first a music major. That didn't work out but now I'm the pianist in my church. I wanted to go to college and major in forestry so I could be a camp director. And they wanted the board to South Carolina and I at this campus and we were about to go into a 4 million dollar building program for a worship site. And I have spent a lot of my 39 years in classroom teaching English. When I got in the right place, God said, "OK, can I can give you the icing on top and put a cherry on top of that?" And he gave it to me.
ME: How did you bring your Christian faith in the public school system? I know how hard it is today, so how did your Christian faith and teaching intertwine in the public school system?
WELBORN: My faith is who I am. I cannot leave it at the door. We say it's a different now. But it depends on who's sitting in the principal's office. For most of my career I worked for Bill Houston who is as Godly a man as I have ever known in my life. While we didn't call it Christian, the climate in Easley High School was always one of mutual respect. I was taught by the principle that you always take care of the kid. I had been on my knees in his office praying for a student; his mother was dying. When I taught The Scarlet Letter, we talked about not just the social implications of what Hester had done, but we talked about a society in which all society rules and Gottsch rules were one and the same and how that was different in the society in which we live. I never left my faith at the door. I have had students say to me I know you're a Christian woman. I mean I've had many students ask me that but what need. As an English teacher, I teach Bible as literature. I can't teach The Scarlet Letter and talk about that scene where Dimmsdale has a huge tapestry, depicting the story of David and Bathsheeba, on the wall in his office. I'm going to talk about gold and tapestry and talk about how rare these are. But what is the story of David and Sheba? You cannot be a good reader, you cannot understand stories if you don't know Bible stories and you don't know mythology. So, I never left my faith. Never. Ever. None of us did. I talked with the community of which I worked, which was deeply faith based. That's who I am.
ME: For future teachers like me and other students who are here and learning about the Christian ethic of care, what advice would you give to them going into their classroom about showing their faith?
WELBORN: It means taking on the lessons that Christ told us. Love one another as I have loved you. We love kids through their worst moments. For me a Christian ethic of care in my classroom, even though we did call it that was always trying to get to the root of the problem. If I had a kid that was really angry typically it wasn't me. It was something else that was going on in his or her mind. And I would say that the greatest Christian ethic of care in a classroom is letting kids know that you will listen. That if you need help you know where to go get it. I have students who have served time in prison. Students in prison right now you know that just never were able to you know kind of reject the world. It's hard but for new teachers so in the end I would say it's true that until kids know that you care about them, they will never care about what you were doing or what you were saying. Why? Why am I teaching about the past tense? It's more than that. It's to help you be able to get that job. I always considered my job as an English teacher was to empower students to take that next step to achieve that goal that they had set. If that was going to West Point. If it was going to be a medical school. If it was going to Tri-County Tech majoring horticulture. Whatever it was, my job was to equip that student to take that next step. That's my job now. With you and all these English majors, it's to equip you to take that next step.
ME: How did you become a professor here at SWU?
WELBORN: Oh. I did not see this coming at all. Many years ago, I was at a conference with Dr. Laura Black who was head of the English department here Southern Wesleyan at the time, and she said, "We would really like to talk to you." At that time Southern Wesleyan had a thriving adult Graduate Studies Program. Adults could go to either Central or Greenville, I think maybe there was a site in Columbia many years ago, and take classes to get their college degree while they were working. Also at that time, that's when the economy was flourishing. They could do this through reimbursements from their companies. Like BMW was booming. I had a lot of students from there. So that's how I started working here. Laura said, "Would you be interested?" I said I might. But that summer I was here. I had a really good friend that I taught with who was getting married who had done the lakes and mountains creative writing program in the summer for our school district, and it was here on this campus. Since she was getting married she said, "Would you do that for me this summer?" I said, "One summer only." So I did. And I came to my classroom one day and there was the long letter from this man named Paul Folkenberry wanting to talk to me and meet with me about some opportunities that he had. I didn't do anything. Couple of days later Ken Dill, whose wife Jane was the director of this program here on campus he said, "Kim Welborn, Paul Folkenberry hunting you. You need to go meet him. He's a nice man." It was like walking into Santa Claus's office. The man looked just like Santa Claus: white beard, kind face, and he said, "We've got some classes and Laura really is interested in getting you here." And he had two classes that summer he wanted me to see. I said I'll teach, and I taught that one class and I was hooked. Some of the happiest teaching moments in my life have been working with adults. You know who have been out of school, never thought college was in their future, and they stepped in, and in nine weeks we would have them competent writers. It was great. So, I did that for years and then Betty Mealy became the department head here, and she kept asking me how much longer you can retire. I said, "Well, I could retire at 28 years which would be in 2008." She said, "OK." In 2006 I left Easley High School and went to the district office, because I had been lobbying for years for a language arts coordinator for our district. I had been our district team working with standards when they were blueprints, and I said we need somebody to coordinate all this. I said I was just recently coming to an understanding that an elementary teacher does not have an English degree. And you needed an English degree to understand the standards that were coming from the state. Somebody needs to be responsible for this. We got new superintendent and she put in a science coordinator, an English coordinator, and a social studies coordinator, and a woman in the office was going to do the math. I applied for and got that job. I thought it was going to be great. I've never been more miserable working in my life and Betty Mealy called me in the summer of 2007, she's got a mind like a steel trap, because she knew I could retire in 2008. She came to talk to me because she said that Southern Wesleyan could offer English as a second language to our teachers so I've got the coordinator of teacher courses with me. She comes in with her secretary. She leans across my desk her secretary to shut my door, we're sitting here, and I think we're going to talk about ESOL. Then she said, "Now. I'm gonnna tell you what I really came here for. Now you can retire at this end of the year and Southern Wesleyan is ready for you." You could have heard a pin drop in that office. I don't know what to say. Here's one my co-worker sitting here, and I said, "Okay I'll think about it." So basically the meeting was over. She hadn't come to talk about ESOL at all. I get emails from her. Week. After week. After week and I'm just ignoring her. That Christmas, I have two aunts, one is my mother's sister and one's my mother's sister-in-law, one of my aunts said, "Kim you have been working too hard all your life to be working this hard now. I've never seen you look worse in your life. You look awful. Kim, you have to do something." I was worn out. This job would be home one weekend a month I would have to go to this meeting or that meeting. I was travelling all over the country. Salt Lake City, San Antonio, it sounds glamorous. It was not. It just was not; I'm a homebody. So in January of 2008 I went to South Carolina teachers of English at Kiowa. I was sitting in the car. And heard a voice say, "Take a walk." So I took a walk on the beach. It was long. And when I got back in the car. I knew. If this job were available I was going to apply for it. So I went to my mother's house. I told her what had happened. She said, "My God. Thank God." And so I called Betty Mealy that Monday morning and told her I wanted to talk to her. So came that next day and we met where Blue Hill is now, and she leaned across that table and said, "Now. You've been ignoring me for six months. What makes you think I want to talk to you now?" And I said, "Well Betty. God spoke to you before he spoke to me. But I clearly heard his voice and I'm ready to come." And that's how I came to SWU. I did not apply for this job and did not go through any interview process.
ME: When it came to your methods of teaching, what was the biggest change that you had to make going from a high school classroom to a college classroom?
WELBORN: Oh, not involving parents. If I have a student in my English class in Easley, I can send an e-mail or make a phone call. Now it's not appealing having that next person to be involved in keeping a student on track. So I guess that was a big change. And truly you can only push a students so far and then just have to let them go.
ME: What was your favorite memory from teaching in high school?
WELBORN: The memory I will take with me is of Chad. When Chad was in 10th grade before his mother was diagnosed with breast cancer and she called the school and talked to our secretary and said, "I just want Chad's teachers to know this." And the secretary said, "Well he's in English class, and her mother's just been through this. He couldn't be in a better place. So I build a relationship with Chad, and I started to talk to him about his mother. Well things did not go well. And when he was starting his senior year, that fall, his stepfather came to school to get him and his sister. Because as it turned out his mother died that night. But they called me over to Mr. Houston's office and there sat these two children are about to lose their mother. I placed my arms around them and prayed for them. And I said, "This is going to be really really hard. You're going to make it." My phone rang at 4 o'clock that morning. I picked it up. Chad said, "Ms. Welborn, my mom is not going to wake up anymore." I said, "Honey, I'm on my way." You always take care of the kid.
ME: What are your plans for retirement?
WELBORN: People ask me this. I don't know why you have have plans in retirement. I really don't know why you have to have plans. I have several things going on. I out of nowhere have this new job that came to me in September. I'm working as copyeditor job in South Carolina Living Magazine, which is a great pleasure. Then I'm the pianist at my church, which is a great outlet for me. I chaired the board of directors for South Carolina United Methodist Camps and Retreats. We're about to go into a multi-million dollar fund raising project. I'll be actively involved in that. Oh, I love to travel. I will be going to Greece in May. I also have traveled to volunteer in missions to Haiti. I hope to do some more mission trips. I hope to spend more time with my friends and just to be able to relax. You know if I want to get in my car on a Thursday and spend the night shopping I want be able to do that. I was asked about my financial adviser when I really started realizing that it was getting close to retirement time after mother died, "What do you want to do in your retirement?" I said, "You know my mother used to go to the beach for the month of November. I want to be able to do that." He said, "You can." So, I will not miss getting up at 6 o'clock. I will not miss having to go outside when it is so cold. I'm not going to miss going out when it is raining. I just will not miss that. I will not miss the the rigors of the classroom. I will miss the relationships of the classroom. I will most definitely miss these moments. All the things God could have chosen for me to do, I can't imagine loving anything more than I have loved teaching. It's just been very satisfying. And I've been blessed. You know I have won more honors and had more opportunities than I deserve. God's hand was in every one.