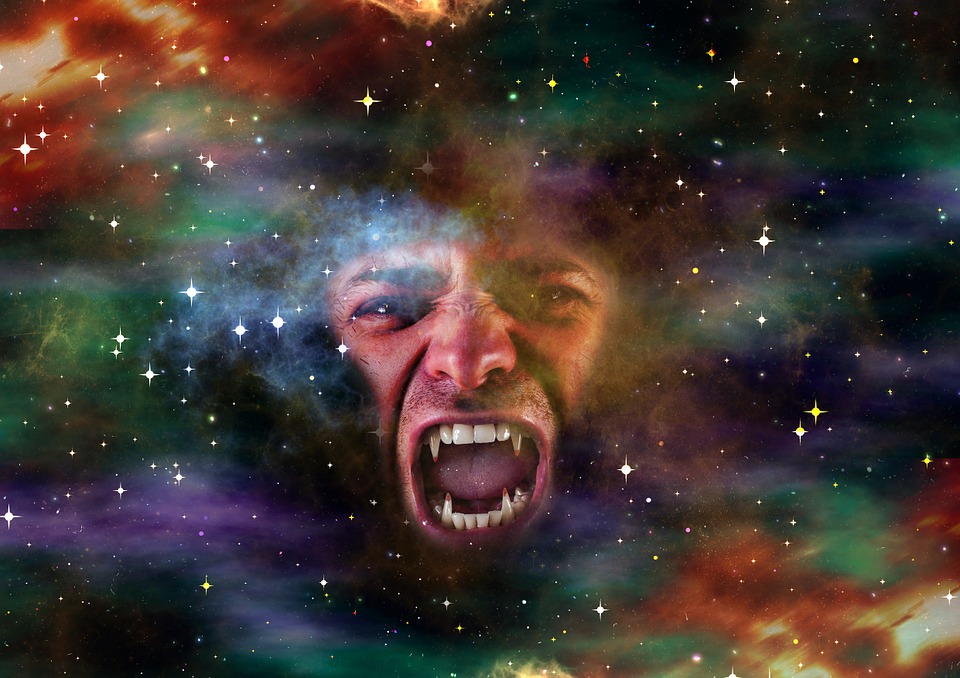 Men, Women, and Demons—C.S. Lewis's Screwtape Letters
Lillian Elmore
This is the final part of our fall series on C.S. Lewis's epistolary novel The Screwtape Letters.
"She's the sort of woman who lives for others—you can tell by their hunted expression."
C.S. Lewis presents a gamut of characters in The Screwtape Letters, but his most vividly described personalities belong to the two demons, Screwtape and Wormwood, and the human Patient they want to tempt. Lewis's Patient is a human male and, though it is debatable whether or not the devils have sexes, Wormwood and Screwtape are often depicted as males. Because all of the actions center around the male Patient, it often seems as if the only concerns addressed in Lewis's novel are specifically male.
It may be seen that Lewis uses a strictly male narrator, drawing from his own experiences in doing so, thus relating few issues to women's spirituality throughout the piece. Throughout the entirety of the piece, the only women characters directly described are the Patient's mother and his girlfriend. From various examples, it is easy to see that men and women are given very different treatment.  In order to understand the contrast between the treatment of men and women in The Screwtape Letters, one should examine the few direct mentions of women in the piece and analyze their roles.
In the second letter, the mother of the Patient is introduced as a difficult and nitpicky woman. Screwtape advises Wormwood to manipulate the Patient's relationship with his mother by making the Patient think "that his conversion to Christianity is internal and grand rather than a part of his day-to-day life." Next, Screwtape tells Wormwood to encourage the Patient to offer only prayers for his mother's sins, which will make him think of what she does wrong instead of her virtues and good character.
Screwtape says he has made his patients so hypocritical in this respect that they literally could stand up from praying for their children's souls only to beat their children's bodies. Screwtape wants Wormwood to direct the Patient's focus on his mother's annoying habits and to read a bitter tone into her voice even when she does not intend to do so. At the same time, the Patient must expect his mother only to take into account his words, not the tone with which he uses them. That way, both mother and son will argue often, and both will think the other is at fault and not themselves.
The Patient's mother is not presented in a positive light. While Lewis reminds us in his introduction that the characters are described from Screwtape's perspective, and that Screwtape frequently lies and is unjust in his assessments, it does seem to me that the mother is a stereotypical British mummy: having numerous nagging opinions and obnoxiously forcing them on others. Later in the novel, Screwtape describes the mother as going to a restaurant to make a big fuss about how her portion is "far too much" and that they should take it back. She is also very particular about her afternoon tea and the oeuvres served with it. In this letter, the Patient's mother seems obsessed solely on weight and appearances.
As I said before, the book is narrated from a demon's perspective, but we must examine the motives behind it. I'm not always sure Lewis is being fair, and perhaps he is allowing his difficult relationship with Mrs. Janie Moore, the mother of his slain friend Paddy Moore whom Lewis took care of after Paddy's death in World War I, to skew his depiction of the Patient's mother. After all, Lewis knew that women add much more to the church than simply being nitpicky and ornery women in large flowered hats complaining. Aside from the negative influence of the querulous Mrs. Moore at this time, I also wonder if The Screwtape Letters are imbalanced more than some of Lewis's later works because the novel is a rendition of spiritual insights from a man who at that time in his life had a limited exposure to the moral gifts and spiritual challenges that are more peculiar to women.
Lewis focuses a lot on sexual temptation. After a long tirade about love and romance, Screwtape mentions that there are several young women endemic to the town in which the Patient lives that would be ideal for a faulty and failed marriage. Scewtape is uninterested in who these women are, but wants Wormwood to use them as objects of sexual passion in order to distract and destroy the Patient's soul.
In letter 20, Screwtape lists what kind of women the Patient should be interested in. He mentions arrogant and prodigal women and exaggeratedly feminine women who appear as boys. These women are faint and self-involved, fully relying on looks and appearances instead of morals and character. Such women are so occupied with the latest fashion and popular look that they waste away, slowly engineering themselves to "be less willing and less able to bear children."
It is all a fake, of course; the figures in the popular art are falsely drawn; the real women in bathing suits or tights are actually pinched in and propped up to make them appear firmer and more slender and more boyish than nature allows a full-grown woman to be. Yet at the same time, the modern world is taught to believe that it is being "frank" and "healthy" and getting back to nature. As a result, we are more and more directing the desires of men to something which does not exist-making the role of the eye in sexuality more an d more important and at the same time making its demands more and more impossible. What follows you can easily forecast! (Lewis 107)
Here through the demonic mouth of Screwtape, Lewis reveals a cruel reality that has been a part of our popular culture for a long time: that women are viewed in a misconstrued way. Though Screwtape reveals that the expectations of society are, in fact, fictitious, he reveals a painful truth. Even in the church, there are unrealistic and unnatural expectations of women, not only in appearance, but in nature. Too many men of Lewis's time were tricked into desiring a waifish woman who is too dainty to bear children, yet both they and society needed women who could bear children and raise a family.
The success of such ploys is incalculable in modern times, and all similar expectations continue to be eternally unrealistic. Later in that same letter, Screwtape discusses an archetype that he calls the 'infernal Venus' as a different method for tempting the patient.
That is the general strategy of the moment. But inside that framework you will still find it possible to encourage your patient's desires in one of two directions. You will find, if you look carefully into any human's heart, that he is haunted by at least two imaginary women- a terrestrial and an infernal Venus.  There is one type for which his desire is such as to naturally amendable to the Enemy-readily mixed with charity, readily obedient to marriage, coloured all through with that golden light of reverence and naturalness which we detest; there is another type which he desires brutally, and desires to desire brutally, a type best used to draw him away from marriage altogether but which, even within marriage, he would tend to treat as a slave, an idol, or an accomplice. (243)
Again, with the exception of the later appearance of the Patient's Christian girlfriend, Lewis in this novel can be frustrating for his women readers because the references to other women is often not complimentary. However, Lewis's main point here is that the Devil is constantly misconstruing sexuality (particularly male perceptions of sexuality) by creating an idolization of the certain type of hypersexualized woman in a man's mind for the goal of guiding Christian men away from relationships that might be more spiritually and salubriously fruitful.
Though it is evident that the perspective is from Screwtape who is a demon, one must be aware of the dangers men face today regarding sexuality. Men face many challenges each day, and they must be aware of the battle they are facing. Be careful not to be caught in the trap that has been set for you, for Lewis shows that it is hidden and enticing at first. Yet it leads to spiritual death.
But flee from these things, you man of God, and pursue righteousness, godliness, faith, love, perseverance and gentleness. Fight the good fight of faith; take hold of the eternal life to which you were called, and you made the good confession in the presence of many witnesses. (1 Timothy 6:11-12)
(1). Lewis, C. S. The Screwtape Letters, and Screwtape Proposes a Toast. HarperOne, An Imprint of HarperCollins Publishers, 2013. Print.